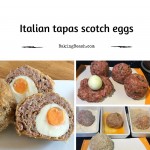 Italian tapas scotch eggs
A scotch egg, is a boiled egg wrapped in sausage meat and coated in breadcrumbs. This is an Italian version of the British Picnic favourite.
Instructions
1. Boil 4 of the eggs, in lightly salted water for 6 minutes. Once cooked run under cold water and then peel with the help of a teaspoon.
2. Fill the sink with soapy water to make easier to clean your hands.
3. In 3 separate dishes add the flour, 1 beaten egg and fresh made breadcrumbs.
4. Blend the caramelised onions. If you haven't got any these left over you can use 2 minced garlic cloves and 1/2 teaspoon of onion powder as an alternative.
5. Remove the sausage meat from their skins and mix with the seasoning, herbs and onions. Squish the mixture so that it sticks together divide into 4 equal pieces.
6. Preheat the oven to 190 degrees centigrade.
7. Flatten the sausage meat into an oval shape about a 1cm thick and wrap it around one of the boiled eggs, try and ensure that there are no gaps and that it is smooth as possible. Repeat until they are all done.
8. Roll the ball of sausage in the flour and tap of any excess then into the dish with the beaten egg and then into the breadcrumbs dish. Repeat with the other 3 eggs.
9. Put on a silicon sheet lined baking sheet. Bake for 20 to 25 minutes until breadcrumbs are brown. Turn it over half through the cooking time. Leave to cool on a wire rack before serving. They will be slightly pink due to the caramelised onions.
Allergens
5

stars - based on

1

review(s)
This recipe is inspired by one of my son Tom's favourite restaurants in Glasgow where they do Italian Tapas. I haven't had it yet but all they go on about is how good the Italian sausage scotch eggs is. A scotch egg is a boiled egg wrapped in sausage meat. This is my attempt at recreating it. To it healthier I bake mine in the oven. For a more indulgent version you can deep fry them.
In this version I use Italian frozen herbs, a pinch of paprika and some caramelised balsamic onions to create an Italian twist to the British classic. If you aren't familiar with what a scotch egg is check out my original scotch eggs post.  The Italian Tapas restaurant version is served lightly garlic mayonnaise.
Its not worth going to the whole effort of making balsamic onions just for this recipe, but its definitely worth saving some when making my caramelised onion and cheese tartlets. Both of these dishes make great party or picnic food.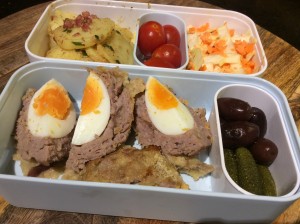 I took one of my Scotch eggs into work as a Bento. In Germany not many people know what a Scotch egg is and they are all fascinated by it.  I served the egg with homemade German style potato salad and coleslaw. For some other great lunch ideas check out my Bento Box page.
Add to Favourites