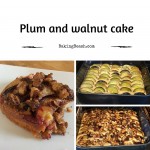 Plum and Walnut Cake
Great tasting Plum and Walnut Cake with a hint of cinnamon.
Instructions
1. Grease and line a medium baking tray with baking paper.
2. Mix all of the dough ingredients together and spread evenly in the baking sheet.
3. Preheat the oven to Fan 170 degrees Centigrade
4. Wash the plums and cut each one into 6. Layer them evenly over the dough.
5. Cook the dough and the plums in the oven for 15 minutes.
6. Meanwhile make the nut topping. Melt the butter and mix in all of the other topping ingredients. When the cake has cooked for 15 minutes. Top it with the nuts. Do not remove it from the oven whilst you are doing this as it may drop.
7. Cook for a further 10 to 15 minutes until the base is cooked.
8. Leave to cool on a wire rack. Great on its own or can be served with Ice Cream or cream.
Allergens
This Plum and Walnut Cake is inspired by Nicola's great Belgium Apple Cake. It is the height of plum season and I was tempted by a 2kg box of plums for 2.50 Euros. This is great recipe to use approximately 12 of them. In this version I combine a small sponge base with some cinnamon, top with sliced plums and the best bit the nut topping. I have used walnuts, but you could use slivered almonds instead if you prefer.
In Germany fruit topped cakes with a small sponge base are one of the specialities. You get different fruit with the changing harvests. The amounts shown here make 9 small slices or six large. If you want to make a whole large baking tray simply double the ingredients.
More plum recipes will be coming soon. For a healthy breakfast idea check out my plum crumble breakfast.
Add to Favourites