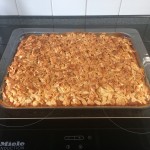 Belgium Apple Cake
Delicious Apple cake with crunchy not topping.
Instructions
1. Grease and line a large baking tray with baking paper.
2. Mix all of the dough ingredients together and spread evenly in the baking sheet.
3. Preheat the oven to Fan 170 degrees Centigrade
4. Peel and thinly slice the apples. Layer them evenly over the dough.
5. Cook the dough and the apples in the oven for 15 minutes.
6. Meanwhile make the nut topping. Melt the butter and mix in all of the other topping ingredients. When the cake has cooked for 15 minutes. Top it with the nuts. Do not remove it from the oven whilst you are doing this as it may drop.
7. Cook for a further 10 to 15 minutes until the base is cooked.
8. Leave to cool on a wire rack. Can be served with Ice Cream or cream.
Allergens
5

stars - based on

1

review(s)
This Belgium Apple Cake is a family favourite recipe. It is my signature dish and one that is most requested from my friends and work colleagues.
Add to Favourites