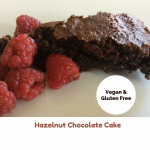 Hazelnut Chocolate Cake
Vegan and gluten free chocolate cake. So tasty everyone will love it.
Instructions
Make the vegan eggs. This is done by grinding linseeds (flax seeds). I use a coffee grinder to do this. In a small bowl mix together the ground linseeds and cold water (135ml). Leave for a few minutes and then mix again. After a while it will start to thicken up.
Sieve the cocoa into a heat proof jug. Pour in the boiling water and mix together until there are no lumps. Leave to cool.
Grease and line a round 8 inch springform baking tin. Preheat your oven to 170 degrees centigrade  on a fan setting.
In a mixing bowl mix together the linseeds (vegan eggs), olive oil, vanilla extract and the two sugars. Mix for about 5 minutes until it is  light and fluffy.
In a separate bowl weigh out the cornflour, hazelnuts and add the salt and baking powder. Mix together until it is well combined.
Add the cooled cocoa mixture into the bowl with the oil and sugar and then tip the nut mix. Stir gently until it is combined.
Pour the mixture into the baking tin.
Cook for approximately 50 minutes. Test it is ready by using a skewer when you gently poke the cake it should come out clean. If it doesn't leave in the oven for a little bit longer.
Cool the cake on a wire rack for about 15 minutes before gently removing from the tin.
Allergens
Allergens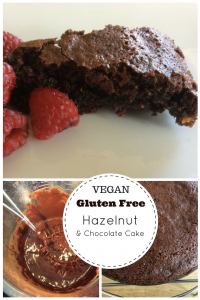 This is a great recipe for a Hazelnut Chocolate Cake. Most people have given it 9/10 which is great because it is vegan and gluten free. Eggs are used to replace with a ground linseed (flax seed) and water mix and instead of butter I have used a regular olive oil. There is no need to use extra virgin olive oil as the flavour may over power the rest of the cake, regular olive oil is cheaper. If you don't like hazelnuts, ground almonds could be used instead. As an alternative to flour a combination of the ground nuts and cornflour has been used.
This Hazelnut chocolate cake is great on its own but even better served with raspberries or cream if you are feeling more naughty.
Add to Favourites