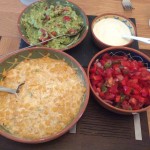 Mexican Dips
Great tasting easy Mexican Dips. 5 minute guacamole, salsa, baked sweetcorn and cheese and cheese sauce.
Instructions
Guacamole
Only make this with a ripe avocado. Peel the avocado and mash it with a fork in a bowl. Zest the lime and add the zest and the lime juice to the avocado. The lime juice stops it from going brown. If you can't get limes a lemon is almost as good. Add the other ingredients and stir to combine.
Salsa
Wash the vegetables and dice them into small pieces. Add the zest and juice of 1 lime and jalapenos and chipolte sauce to taste.
Sweetcorn and Cheese Dip
Put the oven on to 190 degrees Centigrade. Drain the tin of sweetcorn and then add the cream cheese, grated cheddar cheese, spices and spring onions and stir well. Bake in a heatproof bowl for 15 minutes until the cheese has fully melted.
Spicy Cheese Sauce
Melt the butter in a saucepan on a low heat. Add the flour and stir for 1 to 2 minutes. Gradually add the milk stirring all the time. Simmer the milk, stirring occasionally. Meanwhile grate the cheese. When the sauce is bubbling add the cheese, cayenne pepper and paprika and stir. When the cheese has melted remove the sauce from the heat.
Sour Cream Dip
The simplest and one of the best. Open pot and serve!
Allergens
Allergens
5

stars - based on

1

review(s)
As you might have noticed I like Mexican food. One of the reasons for this is having a load of tortilla chips with some great Mexican Dips. Everyone's favourite is the Sweetcorn and cheese dip. Next up would be easy guacamole, then of course salsa and if you are feeling really indulgent Spicy Cheese Sauce. The easiest dip is simply sour cream, which is great if you make your chilli too hot.
You can add as much tabasco or pepper sauce as you would like and throw in some jalapenos if you like them.
It used to be that you'd struggle to find a ripe avocado, at the moment the supermarkets are selling eat me ones which are already ripe and they make great guacamole. If it isn't quite ripe you can put in a paper bag with a banana which gives off a chemical which ripens all fruits. Leave it for a day and check again. Give it a go it only takes 5 minutes. Avocados are a super food they are high in monounsaturated fat which helps reduce cholesterol, high fibre, low sugar and packed with vitamin and minerals. They are high calorie but are supposed to help you stay fuller for longer. Obviously if you have them with loads of tortilla chips they aren't as healthy.
If you are going to try any of these Mexican dips give the Sweetcorn and Cheese one a try. You don't need to make them all.
I will post by beef Nachos and Barbeque Chicken Nachos toppings soon.
Add to Favourites