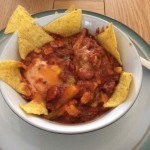 Mexican eggs with tortilla chips
Excellent light lunch dish of poached eggs in spicy tomato sauce.
Instructions
1. Chop and fry the onion in a tablespoon of oil for 5 minutes.
2. Add chopped chorizo and fry for a further 5 minutes.
3. Then add the tomatoes, sliced red pepper, jalapenos, paprika, black pepper and balsamic vinegar and cook for 10 minutes.
4. Add the sweetcorn, then make a hole in the sauce and crack one the eggs into it, repeat with the other egg.
5. When it is almost ready add the coriander or parsley and sprinkle with grated cheddar cheese (you could use Gouda instead).
6. I like my eggs a little bit runny, if you want them well done you could flip them after a few minutes to speed up the cooking time.
7. Serve in a bowl with tortilla chips.
Allergens
Mexican eggs with tortilla chips is one of the family's favourite lunch dishes. Its a tasty easy  budget meal and one of my son Tom's student specials. It combines a spicy tomato sauce with poached eggs served with tortilla chips. Make it as hot as you like by adding jalapenos and paprika. It could be a vegetarian dish, but we like to add chorizo.
Add to Favourites