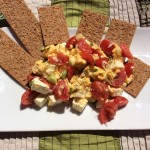 Perfect scrambled eggs
Perfect scrambled eggs with feta, tomatoes and fresh herbs including step by step instructions and pictures.
Instructions
1. Wash the fresh topping ingredients and chop all of them. I currently have fresh chives and fennel in my garden so I used these.
2. Whisk the the eggs and season with salt and pepper. Try and use eggs that are as fresh as possible but up to two weeks old should be ok, you get better results if they are at room temperature. If you store your eggs in the fridge remove then 30 minutes before cooking.
3. Melt half of the butter in a heavy frying pan on a medium heat.
4. Swirl it around the pan, this helps stop the eggs sticking.
5. When the butter has just started to bubble/foam add the eggs and stir with a wooden spoon.
6. When the eggs have 3/4 set remove from the pan and stir in the remaining butter. The residual heat in the pan will finish cooking the eggs. If you leave it on the hob till they have fully set your eggs will dry and flaky.
7. Stir in the topping ingredients and then serve with crackers or toast.
Allergens
Allergens
This recipe shows you how to make  the perfect scrambled eggs. The instructions for the scrambled egg are based on Delia Smith's interpretation of the French Great Escoffier. The secret is to use the magic ingredient butter, cook on a medium heat and stir.The toppings are inspired by one of my favourite cafes in Duessledorf Bistro Zicke.  They are  served with feta, tomatoes and fresh herbs. It could be served for brunch or for a light lunch. For more portions simply multiple the ingredients.
Add to Favourites