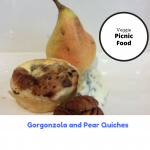 Gorgonzola and Pear Quiches
Great picnic food gorgonzola and pear quiches.
Instructions
1. Grease the tin with oil and dust with a little flour. This will stop it sticking.
2.Lightly dust your work surface with flour. Unroll the packet of pastry.  Sprinkle it with some chopped rosemary (thyme would also be good). Roll the pastry up along the long edge. Cut the pastry in half. Roll it stretching it slightly till the two pieces are the roughly the length that they originally were. Divide each half into 6 equally sized pieces. You should have 12 in total. Stand a piece up on its end and then press downwards with the palm of your hand. You should have a circle shape. With a rolling pin roll the circle out till it is roughly large enough to fill the muffin tin. Then place it in the tin. Repeat with the remaining 11 pieces. Put the tin in the fridge to cool until the filling is ready.
3. Pre heat the oven to  fan 190 degrees centigrade.
4.  Peel the pear. Chop the filling ingredients into cubes or the spring onions into slices. Crumble the pecan nuts into small pieces. Divide the cheese, pear, onions and nuts equally across the 12 quiches.
5. Mix together the eggs and creme fraiche in a jug. Season with a little freshly ground pepper. Spoon the mixture equally into the 12 quiche, ensure that the mix doesn't go above the pastry as this will make the quiche stick once they are cooked.
6. Cook for approximately 25  to 30 minutes until pastry and topping are slightly brown.
9. Leave to cool of a wire rack for 15 minutes  if serving them warm or leave to fully cool if serving them cold. We like the taste of them better cold.
Allergens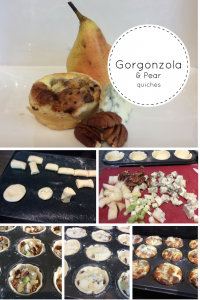 These Gorgonzola and pear quiches are my summer time lunch favourite. I have been meaning to post them for a while, everyone who likes blue cheese has loved them. They make great picnic food, they taste better cold and are great finger food. I like my quiche's with some added crunch from some pecan nuts and some spring onions. Whats great about this recipe is the filling doesn't need any pre cooking, just chop mix and bake in the oven for about 30 minutes. To make the pastry extra tasty buy some all butter puff pastry and sprinkle  some chopped rosemary to the pastry before rolling (you can use other herbs if they are your favourite.
Make sure to find a strong tasting Gorgonzola if its too mild you might be disappointed with the flavour.
I hope you will love these Gorgonzola and pear quiches too. For some over party or picnic ideas you could try my Italian tapas scotch eggs or Caramelised Onion and Cheese Tartlets.
Add to Favourites