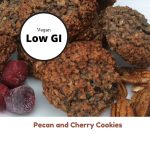 Pecan and Cherry Cookies
Pecan and cherry cookies vegan and low GI.
Instructions
In a small food processor grind the pecans. Then add the coconut oil and the pinch of salt  and mix till you have an almost smooth butter.
Transfer the mixture into  a large bowl.
Make the egg substitute by grinding the linseeds. I use a coffee grinder to do this. Grind 1.5 teaspoons of linseeds and then mix with 2 tablespoons of water.
Cream together the sucolin, vanilla extract, linseeds and water and homemade pecan nut butter.
Weigh out the flour, oats, bicarbonate of soda and baking powder and mix together.
Mix together with the other sucolin and nut butter mixture. Check the sweetness of mixture if isn't sweet enough for you you can add some more sucolin or some agave syrup (Agave syrup is a lower GI version of sugar but not completely sugar free). Add the cherries. Add a few tablespoons of extra water until the dough will stick together when lightly squeezed.
Preheat the oven to 170 degrees Centigrade
Chop the chocolate into small pieces or if you are using or simply add the cocoa nibs. Mix into the cookie mixture.
Line two baking sheets with silicon sheets or baking paper.
Spoon out the dough onto the baking sheets leaving some room for the biscuits to expand. I used an ice cream scoop to make it easier to measure them out. Squash the biscuits down so that they are flat, about 5 mm thick.
Cook for 17 to 20 minutes until they have started to go brown, don't worry they will still feel soft. Remove from the oven and leave to cool for 10 to 15 minutes before removing to cool further on a wire rack.
Once cool store in an air tight tin.
Allergens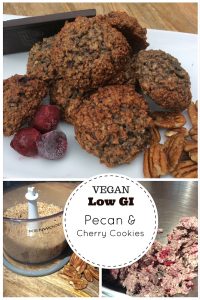 These pecan and cherry cookies are vegan and low GI. I have made them with sucolin which is a sugar replacement to make them diabetic friendly. The cookies are soft in texture due to the sugar replacement. I used spelt flour which is lower GI than white flour. If you aren't watching your GI you can replace the quantities with light brown sugar which will give the biscuits more of a crunch. I have used a dark chocolate which is lower in sugar. If you really have to watch every bit of sugar you could use cocoa nibs instead.  For the cherries I used defrosted morello cherries. Instead of butter I have used ground pecan nuts and some coconut oil. If you can't find pecan nuts ground walnuts would also be a great alternative.
I hope you will like my pecan and cherry cookies. For some other Low GI recipes and some tips check out my low GI page.
Add to Favourites