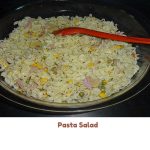 Pasta Salad
Pasta salad or in German Nudlesalat.
Instructions
Boil the pasta in salted water until it is cooked but still firm.
Leave to cool before adding the vinegar and oil salt and pepper. Stir well and leave to rest for  at least 2 hours.
When you are ready to serve stir in the carrot and peas, sweetcorn, mushrooms and sausage salad.
Allergens
This Pasta Salad recipe was given to me by my good neighbours Sabina and Michael. It is a true German classic. If you go to any German BBQ you are sure to find a variation of this recipe. You are asking how can a pasta salad be German well that is because it contains sausage salad. If you can't find sausage salad a British alternative would be to use sliced Spam or luncheon meat in a good  quality mayonnaise. Make sure you add a lot of white pepper its what Sabina does and it tastes great.
Michael and Sabine say that the only critical ingredient that's the right choice of pasta: After centuries of experience they recommend  to use: "Oberschwäbische Land-Nudeln / Wellenspätzle" made by Dorfmühle.
(Can be purchased online at www.gaggli-nudelhaus.de or info@buck-nudeln.de). If you can't find this one try and find a good quality ribbon pasta.
The pasta salad should be made ahead of time and kept in the fridge until you are ready to serve it.
Other variations I have seen have included boiled eggs and chopped green beans.
Add to Favourites