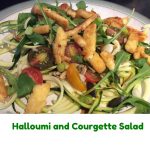 Halloumi and Courgette Salad
Simple Greek inspired salad with Halloumi and Courgette.
Instructions
Prepare the salad ingredients. Using a spiraliser, turn the courgettes into spirals and arrange on 3 to 4 plates. Top with the other salad ingredients.
Remove the Halloumi from its packet and drain it  in a sieve.
Thinly slice the Halloumi into roughly 1/2 cm wide slices. Put the sliced Halloumi back into the sieve and rinse with water. Pat dry with some kitchen paper.
In a bowl mix together the flour, smoked paprika and pepper.
Lightly dust the Halloumi strips with the seasoned flour.
On a medium heat warm a large frying pan with 1 tablespoon of olive oil. When the oil is hot add the Halloumi strips. Fry until the cheese starts to go brown turn frequently until all the sides are cooked. Add more oil if it starts to stick. Squeeze the juice of half a lemon over the cheese just before serving.
Place on top of the salad and drizzle with a little balsamic vinegar.
Allergens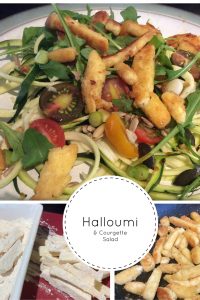 This is a quick and healthy  recipe for Halloumi and Courgette salad. Pan fried Halloumi is one of my son's recipes. Tom was inspired by his Greek flat mate Dimitri. Halloumi was originally a cheese from Cyprus but is now very popular in Greece and Turkey and is growing in popularity everywhere. Halloumi has a very high melting point so it makes it perfect for frying. In this recipe the Halloumi is lightly dusted in flour and gently pan fried in olive oil. You can serve it with your own favourite green salad. In the recipe here I have used raw spiralised courgette, rocket and cherry tomatoes drizzled with some salad sprinkle and balsamic vinegar.
Add to Favourites