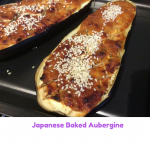 Japanese Baked Aubergine
Japanese baked aubergine/ egg plant ready in approx 30 minutes.
Instructions
Preheat the oven to 190 degrees centigrade
Wash and dry the aubergine and cut it half. Score the flesh in a criss cross pattern  about 0.5cm deep
Make the marinade by mixing together all of the marinade ingredients add enough water till it forms a smooth paste
Spread the marinade evenly over the aubergine
Bake the aubergine for 30 minutes. If you like you sprinkle them with sesame seeds after 20 minutes in the oven
When they are ready it should be soft, squidgy and yummy
Japanese baked aubergine is the tastiest way to eat aubergine or egg plant. Simply make the marinade and bake in the oven. The marinade has all of my favourite Japanese ingredients in it: miso, sesame seeds and soy sauce.  This dish is inspired by the Eat Tokyo restaurant on Nord Strasse Duesseldorf. I was introduced to this dish by my good friend Lisbeth. I have made it every week since and have shared the recipe already with several friends.  Try the recipe and visit Eat Tokyo if you can. This is great served as a side dish to some of my other favourites Japanese Pancakes or Mooli Rolls.
Add to Favourites