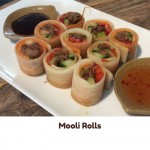 Mooli Rolls
Mooli rolls are a  great low calorie gluten free lunch.
Instructions
Prepare the meat or fish filling of your choice.
Prepare the edible glue by mixing 1 part cornflour  to 2 parts boiling water.
Peel and thinly slice the mooli into long wide ribbons. You are aiming for something approximately 20cm long and at least 5cm wide if using a vegetable peeler or wider if possible as you can cut them in half afterwards. See notes below, using a mandolin gives the best results. Try and estimate how many strips you might need. As a guide I needed 12 strips, using a mandoline, for a tin of tuna, after wrapping these were cut in half.
Wash all of the other vegetables and peel or remove seeds if required. Remove the seeds from a cucumber using a teaspoon.
If you are using carrots thinly slice them into strips using a vegetable peeler and place.
Raw beetroot can be peeled /sliced into thin pieces. Cooked beetroot should be sliced into matchsticks.
Thinly slice other vegetables into matchsticks preferably as long as your mooli strip is wide.
To assemble Mooli Roll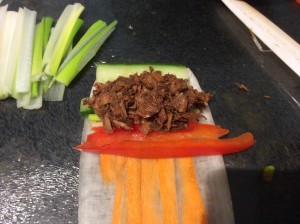 Lay down a large slice of mooli
Layer some carrot slices inside the mooli strip
Lay some vegetables on the mooli at the top, you should aim for something about 7 to 10cm wide.
Place a small amount of meat or fish filling in the middle of the vegetables.
Roll the mooli tightly around the veggies and filling.
Brush the left over mooli with a little bit of the edible glue and then continue to roll tightly.
Tidy up the edges of the mooli roll by cutting with a knife. If you have wide strips you can also cut them in half.
Place the mooli on to a plate with the join on the bottom till the glue has set.
Repeat the process with the remaining mooli and filling.
Allergens
Allergens
Mooli rolls make a  great low calorie, gluten free lunch. Mooli is a very large radish and is the Indian version of the name. In Japanese it is known as Daikon and in German it is known as Rettiche. Mooli can be used to create a low cal gluten free lunch.  The first time I came across Mooli Rolls was in Marks and Spencer. Their Mooli Rolls are great. Living in Germany I have had to try and recreate them for myself.
It has taken me a few times to try and create a good tasting version of my own and now I have cracked it. The secret of getting the rolls to stick together is to use edible glue. Edible glue can be simply made by mixing 1 part cornflour (Mondamin)  with 2 parts boiling water.
You need to slice thin slices of the Mooli to create the rolls. I used a mandolin to do this as it was able to create wide even thin slices (watch your fingers when using one of these). Alternatively use a cheese slicer or a wide vegetable peeler (The vegetable peeler will give you much thinner smaller slices). Try and make your slices a similar size and thickness
Choose your favourite vegetables to fill the rolls. Use at least four to help create some variety and increase the anti oxidants. In the pictures I used some carrot, spring onions, cucumber and pepper. Other great veggies would be sugar snap peas, beetroot, avocado or red  or white cabbage.
Mooli rolls normally have a meat or fish filling I have had them with:
teriyaki chicken/ tuna or beef
BBQ pulled pork
smoked salmon and cream cheese
sardines in tomato sauce
The fish fillings have the advantage of not needing cooking. Just mix with the sauce of cheese of your choice. For the meat fillings they will need to be already cooked. You can use leftovers from another meal or simply fry up to half a cup of thinly sliced meat in a pan and add some teriyaki marinade once the meat is almost done.
If you want some carbs you can also add some cooked egg or rice noodles (I don't normally bother with these)
Serve the rolls with your favourite dipping sauces these could be:
sweet chilli dipping sauce
teriyaki sauce
soy sauce
tonkatsu sauce ( a Japanese favourite). Tastes a little bit like a Japanese HP Sauce.
Add to Favourites