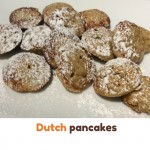 Dutch pancakes
A simple Dutch pancake recipe great with butter and icing sugar.
Instructions
Mix together lukewarm milk and the yeast. ( I gently warm fridge cold milk my heating it in the microwave for 20 seconds). If you need to activate the yeast before using it leave it to ferment for 15 minutes otherwise move on to step 2 (check the yeast packets instructions).
In a bowl mix together the flours and salt. Add the milk and yeast mixture, egg and syrup and gently stir until the mixture is well combined with no lumps.
Cover the bowl with clingfilm and leave the batter to rise in a warm place. Leave for approximately 1 hour or until it has doubled in size.
Melt some butter.
Put a Dutch pancake pan, or frying pan on a medium heat. Lightly grease the pan with some of the melted butter. Spoon the pancake batter into either a dough measurer or an icing bag. These make it easier to measure out small quantities of dough.
Cooking Technique
6. Technique for a normal pan,  you only need to use the equivalent of a  heaped teaspoon for each one, leave plenty of space between them. You can when they are ready to flip as the top of the pancakes starts to look dry. Once the first side has gone brown flip them over and cook the other side. Once they are brown on both sides they are ready to serve. For each batch add some more butter to the pan and repeat the process.
7. Technique in a Dutch pancake pan. Brush each dimple with some butter. Fill all but one of the holes with batter up to about 3/4 full. Leaving one of the holes empty makes it easier to flip the pancakes. The pancakes are ready to flip when the tops start to look a little bit dry. Turn the first pancake over using a fork and place it in the empty hole. Grease  the empty hole with some butter and flip the next ready one. Carry on till all the pancakes have been flipped. Keep checking that the flipped pancakes they are ready when the second side is lightly brown. Repeat until all of the batter has been used up.
To serve
8. Spread with a little of the melted butter and dust with icing sugar.  For extra indulgence you can add a few drops of Grand Marnier. Or alternatively go Canadian and serve with maple syrup.
Allergens
You will find mini Dutch pancakes at every town market in the Netherlands. There is always a big queue to buy them. In Germany, in the area I live in  you will often find them as well. Their original name is Poffertjes. They are usually served simply with a little butter and a dusting of icing sugar. The traditional way to cook them is in a special pan which has special dimples (holes) to pour the batter into them. I have been wanting to make them for ages and have managed to find a reasonably price pan. It is possible to cook them without the special pan my measuring out small amounts of batter but it is definitely a lot easier with one. You can obviously use the pan for the more savoury blinis as well. The easiest way to measure out the batter is to use.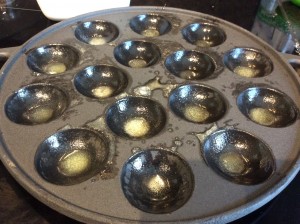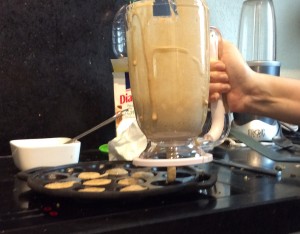 Traditional Dutch pancakes are made with half white and half buckwheat flour. Buckwheat flour has a strong taste that not everyone likes. For a more neutral taste you could use  white flour,  wholegrain or spelt flour.
Unlike their American cousins Dutch pancakes use yeast to make the batter rise. This means you need to be a little while before you can cook them. This just adds to the anticipation. The batter is very similar to a blini batter as it uses have white flour and half buckwheat flour. The main difference is the inclusion of 2 tablespoons of syrup. In Dutch syrup is called stroop and they have lots of different types. In Germany you can use Zuckerruebensirop, which is a syrup made from sugar beet. In the UK I would use 1 tablespoon of treacle and 1 tablespoon of golden syrup which will give you something close to the original Dutch version in terms of colour and taste.
Most Nationalities seem to have their own version of a pancake. I am trying to cook  most of them. If you are also after some great pancake inspiration check out my pancake page. If you have any great recipes you can also post them too.
Add to Favourites