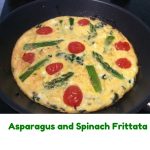 Asparagus and Spinach Frittata
Simple asparagus and spinach frittata.
Instructions
Prepare the asparagus. Take each stick, hold the bottom end of it and and gently bend. The asparagus should snap leaving you holding a tough end at the bottom and the softer tastier long end. Discard the bottom piece as this is too tough. Cut the asparagus into 4cm long pieces. Cook in boiling water for 3 minutes. Drain  the asparagus and then place in a bowl of cold water to stop the cooking process and help keep its lovely green colour.
Preheat the oven to fan 190 degrees centigrade.
Gently fry a sliced red onion in a medium sized frying pan with the butter and oil. After it starts to go soft add the spinach. Cook until the spinach has wilted. It will be much quicker to cook fresh spinach, frozen spinach will take a little bit longer. If there is lots of liquid in your pan drain the onions and spinach mixture in a sieve.
I have a frying pan that can go in the oven. As I had used frozen spinach it didn't need draining so I didn't need to re-oil the pan. If you have drained your pan, wipe with a little oil before arranging. If you don't have an oven proof frying pan use a lightly oiled oven proof dish to cook your frittata in. Arrange the spinach and onion mix on the bottom of the pan/ dish. Add the asparagus pieces.
In a jug mix together the eggs and grated cheese. Season with the thyme, salt and pepper. Gently pour around the asparagus, lift the asparagus up to ensure the egg mixture can go underneath it. Slice the cherry tomatoes in half and place cut side down into the eggy frittata.
Cook in the oven for 15 to 20 minutes until it is set and starting to go lightly brown.
Leave to cool for a few minutes before gently removing from the pan/dish. You may need to gently pull the edge of the frittata away from the pan, I used a wooden spatula do to this. Flip out of the pan onto a chopping board and chop in half.
Serve hot or cold with a simple salad.
Allergens
Allergens
This is a simple recipe for asparagus and spinach frittata. Its healthy, low carb and gluten free. Its a great way of using up some spare asparagus and can be ready in about 30 minutes. The great thing about this dish is that it can be served hot or cold. To add a bit of colour I added some cherry tomatoes.
At the moment asparagus is everywhere or should I say spargel.
Its spargel time! Spargel is German for asparagus and every German goes nuts for it. The favourite German asparagus is the white version. White asparagus is grown under plastic and has a short season just like its green cousin. Before you cook white asparagus you have to peel it. With the green version this isn't necessary. My favourite is the green version and thats what I have used today.  For the spinach I have used to portions of frozen spinach cubes, you can use a couple of handfuls of fresh spinach if you have it you will just need to drain any excess liquid from it before adding the eggs.
A frittata is a baked omelette and you can add your own favourite veggies to make a great light lunch. Simply serve the finished dish with a salad. Give my seasonal asparagus and spinach frittata a go. I had half for a light lunch and the rest the next day in my Bento. For some other lunch ideas check out my Bento Page.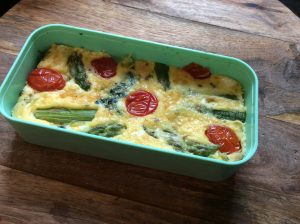 Add to Favourites