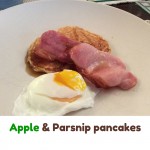 Apple and Parsnip Pancakes
A healthy twist on a breakfast classic.
Instructions
In a bowl mix together all of the dry ingredients.
In a separate jug mix together the milk and eggs.
Gradually pour the wet ingredients into the dry, lightly whisking to try ensure you don't get any lumps.
Peel the vegetables and grate them, squeeze a little lemon juice over the top of them which stops them from going brown. Add them to the batter mixture and stir gently.
Put the frying pan on to a medium heat. Add a few squirts of spray oil into the pan or alternatively wipe a little bit of oil over the pan.
Place a tablespoon of batter into the pan for each pancake. Fry for 3 to 4 minutes and then flip over to cook the other side, the second side should only take 2 to 3 minutes. They should be golden brown. Repeat until all of the batter is used up.
To keep the pancakes warm put on a plate, over a bowl of warm water and then cover with foil.
Great served with maple syrup, bacon and eggs.
Allergens
This Apple and parsnip pancakes recipe is a healthier twist on the traditional. It is based on a recipe from the Abel and Cole the vegetable box company. We have adapted the recipe using Chinese five spice powder instead in cinnamon and cooking it with oil spray to make it healthier. The pancakes are great served with the traditional bacon, eggs and maple syrup. If you need a gluten free pancake you can replace the plain flour with buckwheat flour instead.
These were made for a family Saturday Brunch and they got a big thumbs up from everyone.
Add to Favourites