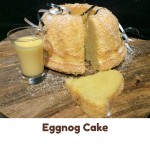 Eggnog Cake
An American name for a classic German cake of Eierlikoerkuchen.
Instructions
Preheat your oven to fan 160 degrees Centigrade.
Oil your baking tin well, this should stop the cake from sticking.
Whisk together the eggs, icing sugar and vanilla extract until light and fluffy.
In a separate bowl mix together the flour, cornflour and baking powder.
Sieve the flours into the egg mixture and stir gently.
Measure out oil and eierlikoer and add it into the other ingriedients. Stir gently until it is well mixed.
Pour evenly into the baking tin and place in the oven.
Cook for approximately 1 hour (I started checking after 50 minutes). Until the a skewer comes out clean and the top of the cake bounces back when touched gently.
Leave to cool in the tin for 10 minutes before gently turning it out.
After it has cooled for a few minutes you can dust it gently with some extra icing sugar.
Allergens
In American  Eierlikoerkuchen would be called Eggnog Cake. This cake is a German classic. I was given this recipe my friend Elke after she bought a great one into work. The cake is really light in texture as it combines plain flour and cornflour. The most popular brand of cornflour in Germany is called Mondamin. Use the best brand of Eierlikoer/ Advocaat that you can. The one Elke recommended was Verpoorten, but a good quality similar one would also be good.
This eggnog cake would be great for Christmas or around Karnival time as it contains liquor. The tin I have cooked it in is also a German Classic called a Gugelhopf. The original gugelhopf comes from the South of Germany. If you haven't got this type of tin you could use a bundt tin instead. The tin I had was 23cm wide and had a capacity of about 2 litres. It was just about big enough.
Karnival is a celebration in Germany in some areas before the start of lent. The main celebrations start on the Thursday before ash Wednesday. Lots of people wear fancy dress at the serious revellers start drinking and singing at 11:11. Ladies are allowed to cut the ties of any men wearing one in return for a kiss. Celebrations go on for most of the weekend with big Karnival processions on Rosen Montag. Eierlikoer Berliners or doughnuts are very popular as well as other decorated doughnuts. The Eggnog cake was a great success being light and moist. Please give it a try I'm sure you'll love it too.
Add to Favourites