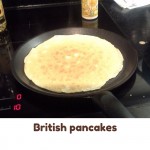 British pancakes
A simple recipe for British pancakes.
Instructions
Mix together the flour and salt and make a hole in the middle of the bowl.
In a jug mix together the milk and eggs.
Gradually pour the liquid into the middle of the bowl and whisk gently gradually picking up more of the flour. Keep adding more of the liquid and stirring until you have used all of the liquid.
Leave the batter to rest for 30 minutes.
Put a medium sized frying pan on to a medium heat.
Spray or wipe with a little vegetable oil.
When the pan is warm pour in 1/2 cup of the batter (125ml)
Cook until the edges of the pancake have become dry. Give the pan a little sideways shake to loosen it. Then toss or flip to cook the other side.
The pancakes are best eaten when they are warm sprinkle with your topping of choice.
Repeat steps 6 to 8 until you have used up all of the batter.
If you can't eat them fresh from the pan they can be kept warm by putting them on a plate over a bowl of warm water cover with a clean tea towel.
Allergens
In Britain there is a tradition to have pancakes on Shrove Tuesday the day before the start of lent. Pancakes on pancake day is a tradition that we always try to keep. This tradition came about when eggs were seen as a treat and were commonly given up for Lent. From when I was very small I can always remember trying to toss a pancake which is to flip the pan to turn the pancake over. One year my Dad managed to flip his so high it stuck to the ceiling. If you aren't feeling brave enough to flip the pancakes you can use a spatula to turn them over instead. At primary school we sometimes used to have competitions to see how many pretend pancakes you could flip in a row or a pancake race where you had to run with a pan flipping the pretend pancake as you went.
British pancakes are a thin pancake similar to french crepes. The traditional way to eat them is with a squeeze of lemon and juice and a sprinkling of white sugar. Another great combination is to have them with golden syrup. This recipe is one that I have been using for over 20 years.
In Austria they have a clear vegetable soup that is filled with pancakes. This recipe would also work well in a savoury dish.
For American style pancakes you can try my buttermilk pancakes if you need to make some gluten free pancakes check out my blueberry pancakes.
This recipe makes 8 pancakes for for increase the number of eggs and other ingredients in the proportion shown here.
Add to Favourites