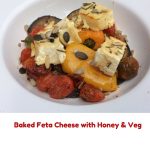 Baked Feta Cheese & Honey
Taste of Greece, Feta and roasted vegetables.
Instructions
Preheat the oven to Fan 220 degrees centigrade
Wash the vegetables and pat them dry. Slice the courgette and aubergine. Place in a baking tray and drizzle with olive oil and season with salt, pepper and Italian herbs.
Bake for 20 minutes, Turning after the first 10 minutes ( at this time put in the cheese)
Remove the Feta cheese from its packet and lightly dry with kitchen paper. Put into a lined baking tray, drizzle on some olive oil season with some black pepper.
Chop the rosemary into small pieces.
Bake for 8 minutes at the same temperature as the veggies.
Remove the cheese from the oven and drizzle on some honey and sprinkle with the rosemary.
When the veggies are ready remove them from the oven. Grill the cheese until it starts to go brown.
Place the veggies on the plates first. Top with some cubes of the cheese.
Drizzle with balsamic vinegar and top with salad sprinkle.
Allergens
This baked feta cheese and honey recipe is inspired by a recent trip to the Mosel valley. As well as having some great wine there I also had some great food. By baking the feta you turn it into something really special. The feta only takes a few minutes in the oven to cook and you can finish it off with some honey and herbs and gently grill it to get a great combination of sweet and salty taste.
To accompany my cheese I also made some roasted vegetables, they also take a few minutes in the oven. Serve the dish with some chunky bread to help soak all the juices.
Add to Favourites