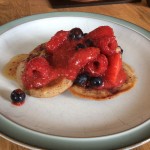 Gluten free blueberry pancakes
A gluten free and low Glycemic Index pancakes. A healthy tasty alternative to traditional pancakes.
Instructions
1. Prepare the fruit by washing it. Keep the blueberries to one side.  If you plan to make a fruit sauce to serve puree up to 100g of strawberries, don't puree the blueberries or raspberries as you won't be able to taste them in the puree. Reserve 100g of the blueberries for the pancakes,  add the remaining whole fruit to the puree,  cut up any larger strawberries into smaller pieces.
2. Mix all the dry ingredients together in a large bowl. leaving a hole in the middle
3. In a separate bowl mix together the wet ingredients ( reserving back 50ml of milk you might not need this extra bit depending on how thick your batter is)
4. Slowly add the wet ingredients to the dry ingredients. Use a hand whisk to slowly incorporate the wet with the dry. This should limit the amount of lumps you get. Add all the liquid, bit by bit, and whisk by hand to remove any lumps. If the mixture is very thick add a bit more milk. You are aiming for a thick, smooth batter. Add the blueberries and gently stir.
5. Preheat a frying pan to a medium to high heat. You will need to cook the mixture in batches so use approx 1 tablespoon of oil and ghee per batch. I used ghee, which is a clarified butter, to cook these. Ghee has a much higher burning point than butter and can be used to fry these. Don't use normal butter as it is likely to burn. If you haven't got any ghee use a vegetable oil instead. Use an ice cream scoop to spoon out the mixture into the pan, try to leave some space between the pancakes as they will spread on cooking. Leave to cook for a few minutes before flipping them over to cook the side. You can normally tell they are ready to flip when they start to dry out on the top.
6. To keep the pancakes hot whilst you wait, place the  the cooked pancakes on a plate over a bowl of very hot water. Repeat the cooking process with the remaining batter.
7. Serve with berries and maple or agave syrup. Or for a healthier version just with a fruit sauce.
Allergens
Allergens
This recipe is a healthier alternative to traditional pancakes. It uses Buckwheat flour to produce Gluten free blueberry pancakes and even better it has a low Glycemic Index meaning it releases its carbohydrates slowly making it friendlier for diabetics. I didn't know much about buckwheat apart from it was gluten free before I made these. The bag of flour had been stuck in the back of the cupboard for a few weeks, bought as an impulse buy from the health food shop. I will be using it again. It has quite a strong almost nutty taste. I used cinnamon and vanilla in this mix so that it was too overpowering and some artificial sweetener. The batter was much thicker than when using conventional flour which made the mixture easier to handle. The first time we made them we served them with fruit and maple syrup. To cut down on the sugar second time around I made a fruit puree from strawberries and added more strawberries, raspberries and a handful of blueberries with a drizzle of Agave syrup.
Buckwheat isn't really a cereal, but is related to sorrel and one of my favourites Rhubarb! Some of its health benefits include:
high in both soluble and insoluble fibre which helps lower cholesterol and reduce blood sugar levels
contains antioxidant quercetin, thought to have anti inflammatory and anti allergic properties
contains rutin, which improves circulation
contains slow release carbohydrates that help maintain blood sugar levels
I made these pancakes as something for the family which looks very naughty, but is actually pretty healthy as long as you don't smother it in too much maple syrup! On the taste side the boys would have preferred the traditional white pancakes. They did eat them all and would have them again once they found out how much better for you they are. They did give that full up feeling without any of the sugar rush you would normally get from having a pancake brunch. Give them a try.
Add to Favourites