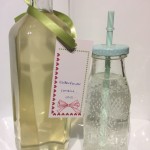 Elderflower Cordial
Foraged elderflowers make a great refreshing drink. Takes a day to make and will last up to 1 year.
Instructions
1. Prepare your elderflowers. Don't include any of the main plant stems in with the flower heads. I sniped the flower heads into small pieces and shook them well to try and get rid of all of the small insects. Place in a bowl that will large enough for the remaining ingredients.
2. In a large saucepan add the sugar and water and bring it up to the boil stirring all of the time. When the sugar has dissolved pour it into the bowl with the elderflowers.
3. Zest the lemons, by lightly grating the skins. Try not to get any of the white pith. Slice the lemons into thin slices and add the slices and zest to the Elderflower bowl. Stir in the citric acid. I got my Zitrone Saure from the cooking section in Rewe, apparently some chemists do it as well, the ones I tried didn't have it.
4. Cover the bowl with a clean tea towel, in my case I used a clean T shirt as I have a large bowl. This will let the mixture cool and keep any flies and dust out. Leave for 24 hours. Don't leave them to soak for much longer than this as they start to ferment.
5. Strain the mixture using a sieve and a piece of muslin or a jelly bag to remove the flowers, lemons and any bugs if they escaped from earlier.
6. Sterilise some bottles if you don't know how check out my how to sterilise jars page.
7. Use a clean funnel and ladle the cordial into the bottles. If you lift the funnel slightly away from the top of the bottle after it is full it will flow into the bottles quicker.
8. Store in a cool dark place for up to 1 year. Dilute with water, sparkling soft drinks or prosecco. As it is very strong I used a 1 to 12 ratio.
Elderflower Cordial is one of my favourite drinks. I now know why I like it so much its the combination of fragrant elderflowers and almost 2 kilos of sugar! This is a great fun recipe to do with the kids. You just need a day to make it. You can mix Elderflower Cordial with sparkling water or sparkling apple /apple schorle for a refreshing summer drink of have it with Prosecco to make Hugos. A number of German friends make their own so this year I have had my first attempt and I am really pleased with it. I am lucky to live near the forest in Angermund where Elderflowers are fully in bloom currently. Check out the pictures in the gallery of me foraging with Annie the dog. I normally end up waiting for her but this time round she had to wait for me.
I did some research on the internet on the best ways to forage for elderflowers and this is what most of the experts said
– Try and find plants that are in natural locations away from roads
– Choose a dry day
– Don't pick too early in the day or late in the day. I collected my flowers at mid morning and they were very fragrant.
– Choose flowers that have lots of open flowers or some about to come out. Avoid flowers damaged by insects or with flowers that are dying.
– Don't pick all of the blooms from one plant, so that the plant has the chance to make elderberries for later in the year. Use your nose, if they smell good they will taste good.
Then all you need is a bit of patience and some sterilised bottles and you'll have a tasty homemade drink that will last for up to 1 year.
Add to Favourites