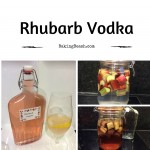 Rhubarb Vodka
Easy way to liven up some vodka and provide a taste of spring all year round.
Instructions
1. Wash and cut the Rhubarb and add it into a bowl with the sugar. Leave it to rest for a few hours to bring out the juices.
2. Add the rhubarb and sugar mix into a sterilised kilner jar, larger enough to take the vodka and rhubarb. Add the vodka and shake well. Tips for sterilising jars can be found here
3. Leave to infuse in a dark place for 4 weeks.
4.  At the end of this time. Sterilise a bottle the correct size for your amount of vodka. Strain using some muslin and a funnel into the clean bottle.
5. Store in a cool dark place for up to a year.
This is an easy way to make a subtle flavoured Rhubarb vodka. All you need is a few weeks.
I made 0.5 litre of Rhubarb vodka if you want to make more simply scale up the sugar and rhubarb.
Serve it with some sparkling mineral or tonic water and a slice of lemon.
For some ideas for rhubarb check
Add to Favourites