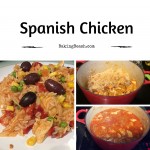 Spanish Chicken
A family favourite for many years Spanish Chicken.
Instructions
1. Chop and fry the onions in a little oil in a large pot. Fry for 5.
2. Chop the chorizo sausage into small pieces and add to the onions.
3. After a 2 minutes add the diced chicken and cook until the outside of the chicken has turned white. Add the paprika powder.
4. Move the mixture to one side of the pan and add the rice and cook for 2 minutes string to coat all of the rice in oil.
5. Add the the tomatoes, stock and water and boil with the lid on the pan for 10 minutes. Stir  frequently to stop the rice from sticking to the bottom of the pan. Season with salt and pepper and vinegar. You may need to add a little more boiling water if the rice absorbs too much before it is soft.
6. Add the sweetcorn, peas and peppers and cook for 5 minutes or until rice is cooked.
7. Serve with optional olives.
Spanish Chicken is a Parker Family special. It is one of the first dishes my mother in law Wendy cooked for me. I'm not sure whether the original really came from Spain. This dish combines rice, tomatoes and chicken. As I always change recipes this is a version I have developed over the years. I have made a bit more Spanish by adding some Chorizo sausage, smoked paprika and some grilled red peppers. My boys say they like it but are probably too scared to say that they like it more than the original.
Add to Favourites