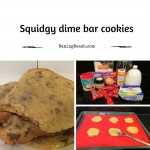 Squidgy Daim Bar Cookies
Make these squidgy cookies with either daim bars or chocolate.
Instructions
1. Preheat the oven to fan 190 degrees centigrade.
2. Melt the butter either in the microwave or a saucepan. Add sugars  and mix until till well combined.
3. Add the egg and vanilla extract and then sift the flour and baking powder into the bowl. Stir together until combined.
4. Add the chopped daim bars and chocolate.
5. Line 2 baking sheets with either silicon sheets or baking paper.  Using a ice cream scoop place the cookies on the sheet leaving plenty of space for them to expand. Press them down with a fork.
6. Once the oven is up to temperature cook them for 8 to 10 minutes. They are ready when they are just starting to go brown around the edges.
7. Leave to cool for 5 minutes before moving, I used a pizza slice to make this a bit easier.  Cool on a wire rack.
8. Once cool store in a airtight container, if they last that long!
Allergens
5

stars - based on

1

review(s)
This is a quick and simple recipe for squidgy daim bar cookies. What makes a cookie a squidgy? Well I think the answer to this is not cooking it for too long and having lots of sugar in it. I made the mistake of taking my son Jamie shopping with me when he has hungry. He picked up a packet of ready made Milka Daim cookies. I wouldn't let him buy them but promised to make him some instead. This recipe got a big thumbs up and he said it was definitely worth the wait.
It combines some mini daim bars with some daim bar milk chocolate.  It you aren't familiar with daim bars you can get them in Ikea and most of the larger supermarkets in Germany sell them now. The first time I had one was on a school trip to Denmark when I was 17 and I have been a huge fan ever since. They were originally marketed in the UK as Dime bars and were renamed back in 2005. They have a crunchy almond and sugar filling topped with milk chocolate. For more history on the great daim bar this is what wiki says.
This recipe would also work well just with chocolate I would recommend using a dark chocolate as there is a lot of sugar in the mix. In this method I have used melted butter and cooked the cookies straight away at a high temperature. This creates a thin bendy cookie and one that can go from start to tummy in about 20 minutes if you like that straight from oven oven taste. Great news if you have a hungry teenager. If you would like a firmer cookie use softened butter and chill the dough for 30 minutes before making the cookies cook for an extra 2 minutes.
Add to Favourites