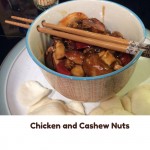 Chicken and Cashew Nuts
Tasty, simple recipe for Chinese chicken and cashew nuts.
Instructions
Choose the rice of your choice. Check the cooking instructions. For white rice it will take about the same length of time to cook as the main dish. Brown rice will take longer. Put the rice on to cook.
Thinly slice the chicken breasts.
On a separate chopping board slice the onions, mushrooms, peppers and carrots.
Warm a frying pan or wok on a high heat. Add the tablespoon of cooking oil.
Fry until the chicken is cooked, stirring frequently so it doesn't stick. Remove from the heat and put it on a separate plate.
Add a little more oil to the pan if required. Fry the onions for 3 minutes and then add the remaining vegetables cook for 3 more minutes.
Whilst you are waiting make up the sauce. Add all of the ingredients into a jug and mix well until it is fully combined. Add to the pan with the vegetables.
Check your rice it might be ready by now.
Cook sauce for a few minutes and then add the chicken back into the mixture. Sprinkle with a handful of cashew nuts and then serve.
Allergens
Chicken and cashew nuts is  a great Chinese takeaway classic.This recipe is simple to make and can be ready in 20 minutes. Put in your favourite vegetables, I like to use onions, mushrooms, carrots and peppers. For the cashew nuts I cheat and use a handful on roasted salted cashews, this means you don't have to toast them to get a great flavour. If you can, try and get mushroom soy sauce, the local Asian supermarket should sell it and it has a much better flavour than the normal one.
Chicken and Cashew nuts is a firm family favourite. Tom has been nagging me to post it for a while. We like to have it with boiled rice and a few prawn crackers. Hope you like it too. Once you have made this you won't need to go to the Chinese takeaway again for this dish.
Add to Favourites