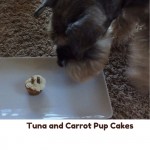 Prep Time: 5 minutes
Cook Time: 3 minutes
Print
Tuna and Carrot Pup Cakes
A healthy, tasty dog treat that is quick to make and will keep for a few days in the fridge.
Instructions
Tip the tin of tuna into  medium sized bowl. You do not need to drain the oil. If the tuna is in large chunks mash it with a fork to help break it up into smaller pieces.
Add the grated carrot,  oats and a beaten egg. Mix to combine.
Then add some flour a tablespoon at a time and mix. You are aiming to try and get a consistency of the mixture which is like a normal muffin mix. For me I needed to use 3 tablespoons. I can't give an exact number of spoons as every brand of tinned tuna is likely to have a different amount of oil.
Spoon into microwavable silicon mini cup cake moulds or use a larger glass dish if you haven't got any of these.
Place the moulds on a plate.
Cook in the microwave for 2.5 minutes. Check to see if they are firm. If not continue to cook in 30 second intervals until the pup cakes are firm. (If make one large cake check after 4 minutes and then 30 seconds thereafter)
Leave to cool fully before giving to your dog.
For extra indulgence you can top them with some cream cheese only do this just before serving.
Store in the fridge in an air tight container. They should last for about a week.
Allergens
It is my dog Annie's 11th birthday today. To make it extra special I came up with this recipe for Tuna and Carrot Pup Cakes. They only take about 10 minutes to make and are made of healthy ingredients. They were cooked in the microwave. Fish is one of her favourite things to eat, you could use tinned salmon as an alternative if that is your dogs favourite.  To make them a bit healthier they were made with some porridge oats and spelt (dinkel) flour these grains are lower GI (reduce sugar slower) but still contain some gluten. I have checked online and they are both ok for dogs to eat who don't have a Gluten intolerance. You could also use wholewheat flour or even white flour if you don't have anything else. It was a surprise to me that Dogs also can suffer from gluten allergies.
The cakes can be cut up into smaller pieces for training treats. Keep them in the fridge to help them last a bit longer. If you don't have any mini cup cake silicon moulds the mix can be cooked in a glass dish and cut into smaller pieces once cooked. You will probably need to cook it for a little bit longer.
For Annie's birthday to make them extra special I topped a couple of the cakes with some cream cheese and added some dog treats to replace the candles. Let me know what your dog thinks of the Tuna and Carrot Pup Cakes. I hope they like them to.
If you are after another idea I have also invented a recipe for tasty plum and cinnamon dog biscuits (I like to eat these almost as much as the dogs).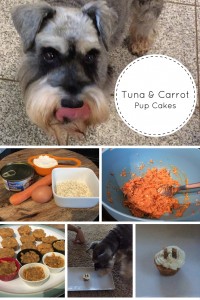 Add to Favourites