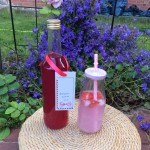 Prep Time: 30 minutes
Cook Time: 24*60 minutes
Print
Rhubarb Cordial
A delicious summer time drink. Serve with sparkling water and sliced strawberries.
Instructions
1. Wash the rhubarb well. Slice it into 3 cm sized lengths and put it into a large pan add the water and simmer on a low to medium heat until the Rhubarb is all mushy. Stir it frequently to stop it burning or sticking to the bottom of the pan. It took 30 minutes for me to get it to a very soft stage. Remove from heat.
2. Set up a sieve lined with a piece of muslin or a Jelly bag over a clean bowl. Spoon the softened Rhubarb and any remaining juice into the sieve or jelly bag. Leave for 24 hours for the juice to drip out into the bowl. Don't squeeze the bag or sieve from the sides as this leads to a cloudy cordial. I used a plate with weights on it to help the juice come out.  Cover the bowl with a clean cloth or tea towel to keep the dust and flies out.
3. After 24 hours measure the amount of juice. For every 100 ml of juice you have you will need 75g of sugar and 1.5 teaspoons of lemon juice. I managed to get 350ml of juice from just over 1 kg of Rhubarb.
4. Sterilise 1 bottle by using the oven method, I required a 750ml bottle if you have used more Rhubarb you might need a bigger one.
5. Place the juice and the correct amount of sugar and lemon juice in a sauce and heat until the sugar has fully dissolved.
6. Leave the mixture to cool until the bottle is ready. Then carefully ladle the  cordial into the bottle using a clean funnel. Leave to cool before putting on the top. Keep in the fridge.
3.5

stars - based on

2

review(s)
We are now coming to the end of Rhubarb season and the local green grocer is selling it for 1 Euro a kilo. This is a great way to get the most out of the end of season Rhubarb. As you probably have noticed I love Rhubarb. It is really popular in Germany and can be bought all year round as a fruit juice. It makes a refreshing drink when combined with sparkling water. This is a simple Rhubarb Cordial recipe that combines sugar, lemon juice and a bit of water to make a lovely cordial / sirop recipe. You do need some patience but it is definitely worth waiting for. The cordial will keep for 2 weeks if stored in a sterilised bottle in the fridge.
Serve with sparkling water and some fresh strawberries, its very concentrated so you need a ratio of about 1 part cordial to 10 to 12 parts fizzy water. We experimented adding it to prosecco, but the prosecco took the colour out if the drink and over powered the Rhubarb, the simple way with water is definitely the best. It was the most popular drink at our recent get together.
Be careful what you put the cooked Rhubarb in. It contains Oxalic acid that can discolour some metals, it changed the colour of my sieve! Also you should avoid eating cooked Rhubarb or spinach if you have kidney issues.
Add to Favourites