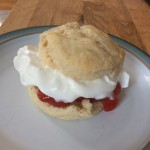 Classic Scones
This is a recipe for the Classic British Scones great with homemade strawberry jam. It makes 7 small scones recipe can easily be doubled.
Instructions
For the Scones
The key thing to make light and fluffy scones is to not over mix the mixture. It should also relatively sticky.
1.  Put the flour and baking powder in a bowl and mix. Cut the chilled  butter into small cubes and add to the bowl.   Rub the flour and butter together with your finger tips. lifting them up to aerate the mix. Stop when the mixture mix resembles breadcrumbs. Sprinkle in the sugar and salt.
2. Measure out the butter milk and 4 tablespoons of the milk in a jug. Add the vanilla extract and mix together.
3. Preheat the oven to 220 degrees centigrade.
4. Add 3/4 of the  liquids to the bowl and use a knife to gradually incorporate the flour mixture, add the rest of the liquid. I needed to add the extra spoonful of milk to end up with a sticky dough.
5. Dust your work surface with flour. Turn out the dough and flatten it with your hand till it is roughly 2 to 3 cm thick, don't press too hard. Use a cookie cutter or a glass to cut out the scones. You can either make small 5cm or large ones 7cm. Press down with the cutter and lift it straight up, try not twist it as these can stop the scones rising. Place the scones on a baking sheet greased with butter and dusted with flour. Cut out as many as you can and then reshape the dough and cut some more. Try to maximise the number you can cut from each reshaping as the more you handle the dough the flatter the scones are likely to be.
6. Lightly brush the tops of the scones with a little extra milk. Try not to let the mixture run down the sides of the scones as this can limit how much they rise.
7. Cook for 12 to 15 minutes until they are lightly brown. Leave to cool on a wire rack for a few minutes.
8. Cut in half and serve with jam and with cream. They are best served warm.
Allergens
5

stars - based on

1

review(s)
If you have ever been on holiday to the seaside in the UK you must have had a British Cream Tea. A Cream tea is Scones served with Jam and Clotted Cream and of course accompanied with a lovely cup of Tea with Milk. They are most popular in Devon and Cornwall and there is a big debate as to which county makes the best one. In a Devonshire cream tea the scones are split in half, then you put on the clotted cream and them top with the strawberry jam. In a Cornish Cream Tea its scones, jam and then cream.
Clotted cream is one of the things that all of us Brits miss about living in Germany there is nothing that comes close to it. It has a very high fat content and doesn't last long. Cornish Clotted Cream has now got protected status. Here you will have to serve the scones with whipped cream instead. As whipped cream is much lighter, its going to be a Cornish inspired cream tea.
I have tried several different recipes some with eggs and some with normal milk this one produced  the best results. These classic scones are made with butter milk and chilled butter. I tried to cheat on the method by making it easier it doesn't work. If you want a simpler to make scone try my German inspired quark scones they don't look as pretty but taste just as good and only have 5 minutes preparation time.
It's German strawberry time at the moment and its a great year for them. Follow the link to my easy Strawberry Jam with Pimms recipe. Its only boiled for 5 to 7 minutes so is quick to make will last for about a month from opening in the fridge.
Any one that knows us Beashel's knows that a cup of tea is our preferred drink. This is one of the best things to serve with. Give this easy recipe a try. They are best served still warm from the oven. The recipe can easily be doubled if you would like more.
Add to Favourites