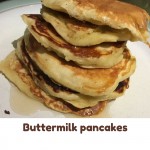 buttermilk pancakes
Traditional american style buttermilk pancakes with metric measurements and European portion sizes.
Instructions
If making your own buttermilk mix together the milk and vinegar or lemon juice and leave to stand for 10 minutes. You can use all of this mixture for the pancakes even the lumps!
2. Mix all the dry ingredients together in a large bowl. leaving a hole in the middle
3. In a separate bowl mix together the wet ingredients,
4. Slowly add the wet ingredients to the dry ingredients. Use a hand whisk to slowly incorporate the wet with the dry. Don't mix too well it is ok to have a few lumps. If you other mix the batter you will get tough pancakes.
5. Preheat a frying pan to a medium to high heat. Use a oil spray for healthier cooking Use an ice cream scoop to spoon out the mixture into the pan, try to leave some space between the pancakes as they will spread on cooking. Leave to cook for a few minutes before flipping them over to cook the side. You can normally tell they are ready to flip when they start to dry out on the top.
6. To keep the pancakes hot whilst you wait, place the  the cooked pancakes on a plate over a bowl of very hot water. Repeat the cooking process with the remaining batter.
7. Serve with maple syrup and either fruit or bacon and eggs.
Allergens
Allergens
This recipe is a metric version of our American Cousins classic buttermilk pancakes. The amounts shown here makes about 6 pancakes. If you need more simply double the ingredients. The secret to making buttermilk pancakes is to only lightly mix the batter its ok to have a few lumps. Use the batter as soon as possible as the bicarbonate of soda reacts with the buttermilk to make a light and fluffy pancakes. If you need a gluten free alternative for some one you can check out my recipe for gluten free blueberry pancakes.
In this recipe I have made my own  buttermilk. It means you can make these great pancakes without any special trips to the supermarket. It is possible to make your own by adding 1 tablespoon  & 1 teaspoon of clear white vinegar or lemon juice to 280 ml of milk. Mix well and leave it for 10 minutes before using. You can use a carton of buttermilk instead, but will probably have some left over.
These buttermilk pancakes are great served served with fruit or as part of an American Brunch with crispy bacon, eggs and maple syrup.
Add to Favourites