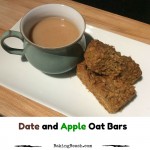 Date and Apple Oat Bars
Tasty easy Date and apple oat bars, great for breakfast on the go.
Instructions
Boil some water. If you are using an optional teabag make a cup on tea to drink and then add the used teabag into the boiling water to soak with the dried dates. Alternatively you can just soak the dates in plain boiling water. Leave to soak for 15 minutes, remove the teabag after 5 minutes.
Preheat the oven to 180 degrees centigrade
Lightly oil the cake tin or prepare cupcake cases.
Peel and chop the apple into chunky pieces roughly of 1 cm. I had small apples so I needed 2 to get 150g.
Carefully blend the date and water mixture, make sure you haven't left the teabag in! Use a large food processor or a hand blender in a large bowl as the mixture can splash.
Weigh out all of the other ingredients and add them to the bowl. Mix gently until the mixture is just combined.
Spoon into the cake tin. I use 1 ice cream scoop for each cake bar. If using a larger tin ensure that the mixture is levelled out.
Bake for approx 15 minutes for mini bars, 12 to 15 minutes if you are making cupcakes or for approx 25 minutes for a larger tin. The cakes should spring back slightly to the touch when they are ready.
Leave to cool on a wire rack before removing from the tin.
Allergens
This is a simple recipe for Date and Apple Oat Bars. They make a great tasting snack with a cup of tea or can even be used for breakfast on the go. This version has been inspired by my favourite indulgent pudding sticky toffee pudding. Unlike the original sticky toffee this recipe is a low sugar one. Lots of dates and apple replace the sugar. It does include some syrup. Use your choice of Zuckerruebensirop, Agave, Golden Syrup or even Treacle. Agave is the healthiest option out of the suggestions as it releases it sugar over a longer period leading to less of a sugar rush. I have used the Zuckerruebensirop as it is half way between treacle and golden syrup in terms of its taste and has a dark colour which leads to a result close to the original sticky toffee pudding which gets it colour from lots of dark brown sugar. Another a great advantage of these bars is that they are lactose free.
One of the key steps in this recipe is to soak the dried dates in boiling water for 15 minutes. If you want to increase the effect of these potential breakfast bars you can also add a teabag to the water whilst you are soaking the dates. This will add some extra taste and colour. Anyone that knows me will know that my brand of choice is PG tips, I make a cup of tea first and then put the used bag in with the dates. Lots of original Sticky toffee pudding recipes also use tea soaked dates.
The recipe shown here is my second attempt. Both versions went into work and this is the one that got the best feedback. If you really want a low sugar cake try my apple and walnut oat bars or my low GI carrot cake. Dates naturally have a lot of sugar in them, thats part of why these Date and apple oats bars taste good.
I have baked my bars in a mini bar tin I got from Lakeland. If you haven't got one of these you can use, cup cake cases or  a 20cm square, lined cake tin instead. It will take a bit longer to cook in a larger tin and you will get a softer cake as the tin helps crisp up the outside of the bars. They will still taste great though.
Add to Favourites