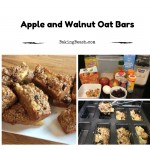 Apple and Walnut Oat Bars
Tasty easy apple and walnut oat bars, great for breakfast on the go.
Instructions
Preheat the oven to 180 degrees centigrade
Lightly oil the cake tin
Peel and chop the apple into chunky pieces roughly of 1 cm. I had small apples so I needed 2 to get 150g.
Weigh out all of the other ingredients and add them to the bowl. Mix gently until the mixture is just combined.
Spoon into the cake tin. I use 1 ice cream scoop for each cake bar. If using a larger tin ensure that the mixture is levelled out.
Bake for approx 18 minutes for mini bars or for approx 25 minutes for a larger tin. The cakes should spring back slightly to the touch when they are ready.
Leave to cool on a wire rack before removing from the tin.
Allergens
This is a simple recipe for Apple and Walnut Oat Bars. They make a great tasting snack with a cup of tea or can even be used for breakfast on the go. Jamie and I have munched our way through most of these already. You can add in your favourite spices. For me I used a mix of cinnamon and nutmeg. If you don't like these you could use a teaspoon of vanilla extract instead.  I have used a handful of cranberries in my bars you could use raisins or even other nuts instead.
I have made these slightly healthier by using a combination of Agave syrup and brown sugar. Agave syrup gives less of a sugar rush than normal sugar. If you want an even lower sugar version you can replace the Agave and brown sugar with 100g of sucolin, its the best artificial sugar for baking I have tried yet and is friendly for diabetics.
I have baked my bars in a mini bar tin I got from Lakeland. If you haven't got one of these you can use a 20cm square, lined cake tin instead. It will take a bit longer to cook and you will get a softer cake as the tin helps crisp up the outside of the bars. They will still taste great though.
Add to Favourites