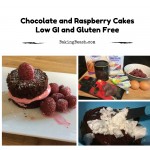 Chocolate and Raspberry Cakes
Rich chocolate and raspberry cakes, using artificial sugar, for a lower sugar tasty cake.
Instructions
Weigh out the frozen raspberries and leave them too defrost (approx 1 hour) alternatively you could use fresh raspberries.
Grease the cake tin with a little extra softened butter and dust with a little cocoa powder. This should hopefully stop the cakes from sticking.
Put the chocolate, broken into pieces, and butter into a heat resistant bowl. Place the bowl over a saucepan of simmering water, ensure that the bowl doesn't touch the water as this will lead to grainy chocolate. Melt the chocolate gently, stirring every now and then. Once it is fully melted remove from the heat and leave to cool.
Blend the artificial sweetener sucolin to make it smoother ( the original recipe called for icing sugar which is much smoother)
Separate the eggs. Do this one at a time just in case you you break the yolks. Put the whites into a very clean bowl and the yolks into another mixing bowl.
Add the sugar to the egg yolks and mix until they are light and fluffy. The gently fold in the chocolate and butter mixture. Sieve in the cornflour and the pinch of salt and gently fold in. Gently mash the raspberries and fold into the mixture.
Whisk the egg whites until they are at a soft peak stage. This is when you remove the whisk you can see a little peak, it should be relatively floppy (the stiff peak stage is when you can hold it upside down above your head don't whip them that hard for this recipe).
Preheat the oven to fan 180 degrees Centigrade.
Fold 1/3 of the whipped egg whites into the other mixture. This helps make it easier to mix in the remaining egg white whilst maintaining the most air. Then add the remaining egg white and gently fold it in until you can no longer see any white left in the mixture. I use a figure of eight fold to try and achieve this. Stop as soon as you reach this point as mixing removes the air from the cake.
Spoon using an ice cream scoop into the prepared cake tin.
Cook for approx 18 minutes. It is hard to tell when chocolate cakes are ready, as you can't check the colour. The top of the cake should spring back when gently touched when it is ready.
Cool on a wire rack before removing from the tin.
Serve with double or single cream and some mixed berries if you have some left over.
Allergens
These Chocolate and Raspberry cakes are a great way to get a great chocolate taste with less calories. I have used the artificial sweetener sucolin to make them no added sugar. Even better they are also Gluten free. This is relatively low GI, low sugar, cake recipe. However it is not low calorie due to chocolate, eggs and cream so don't too many. A big thank you goes out to make friend Agnes who gave me the original full sugar and gluten version of this recipe. If you don't want to use artificial sweetener the original recipe used icing sugar instead.
They do create a lot of mess whilst you are making them, but if you like chocolate they are definitely worth trying.
I served them with some double cream mixed with fresh raspberries. The picture shows them made into a mini sandwich cake, as they are very rich this might be too filling for most people. I just had 1 piece of cake with a cream topping.
If you don't have a mini cake tin you could cook them in a small lined cake tin, they will take a little longer to cook.
I got good feedback from  my taste testers at work. Most of us and trying to be good at the moment before the Christmas cookie season starts. Nobody could taste that they didn't have real sugar in them.
Let me know what you think of these Chocolate and Raspberry cakes.
For other low sugar recipes you can try:
Add to Favourites