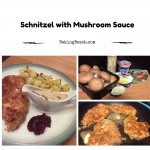 Schnitzel with Mushroom Sauce
Inspired by our favourite German restaurant a classic Jaeger Schnitzel served with bratkartoffeln.
Instructions
Preparing the Schnitzel
Fill the sink with soapy water to make it easy to clean your hands. Have a clean plate ready to store the uncooked schnitzel.
You will need 3 separate bowls. In bowl one add the flour and mix in the herb salt and pepper. In bowl 2 add the beaten eggs. Turn the bread into breadcrumbs, I use a food processor for this and add it into bowl 3. (You can use shop bought breadcrumbs. I like homemade wholemeal breadcrumbs better probably as they soak up more of the butter).
If you have whole chicken or turkey breasts follow the step in the note below.
Coat your schnitzel pieces first in the bowl of flour, ensure that you get an even coating and dust off any excess. I dip all of the pieces into the flour first as this creates slightly less mess.  Then in turn dip each piece of schnitzel into  the egg and finally into breadcrumbs, put on the plate and then repeat until all pieces have been breaded. Cover with cling film until ready to cook later.
For Potatoes, Bratkartoffeln
Peel potatoes and dice into approx 1.5 cm pieces. Boil for 10 minutes in a saucepan of water with a pinch of salt. Once cooked drain the potatoes throughly.
Whilst the potatoes are cooking thinly slice the onions and fry them gently in a large frying pan with a tablespoon of oil.
Once the onions are starting to go soft add the diced bacon and fry for 2 to 3 minutes before adding the drained  partly cooked potatoes. Don't stir the potatoes too much a bit of brown colour in them is what you are aiming for. Season with a little salt and pepper. If they start to stick to the pan you may need to add a little more oil. Just before serving add some chopped parsley. They take 5 to minutes to fry. Can be kept warm on a low heat until the schnitzel is ready.
For the mushroom sauce
Clean and slice the mushrooms. As mushrooms absorb lots of water wipe with a moist cloth to remove any dirt to stop them getting too waterlogged.
In a saucepan melt the butter, the add the mushrooms and lightly stir to coat them in the butter. Cook on a low heat stirring occasionally until the mushrooms have softened, approx 5 minutes.
Make up the stock following the instructions of the packet (you won't need to use all of the stock from a stock pot but can safe it for use in another dish e.g soup)
Add all of the other sauce ingredients and simmer gently until you are ready to serve the schnitzel. Adjust seasoning to taste.
To cook the schnitzel
In a large frying pan warm 1 tablespoon of oil and some butter on a medium heat (including oil in the pan makes it less likely that the butter will burn). Once the butter has melted add the schnitzel. Cook on the first side until the breadcrumbs have gone golden brown, don't move the schnitzel around the pan too much as you will lose the breadcrumbs, takes approx  3 to 5 minutes. Then turnover the schnitzels add some butter to the pan and cook the other side.
Serve the schnitzel with the mushroom sauce and potatoes and if you have some some cranberry sauce or lingonberry jam ( the jam you have with Ikea Meatballs)
Allergens
Schnitzel can be any boneless meat, flattened so that it is thin and coated in flour, egg and breadcrumbs and then fried. The most famous version is the Wiener Schnitzel, Vienna Schnitzel, which uses Veal and is normally served with potato salad. In Germany it is most common to have a version made with pork. At home for a slightly healthier version I use chicken or turkey.
Schnitzel is the reason my family came to Germany. I had the job opportunity to come to Germany or stay in the UK. My company paid for an orientation trip. My boys were a bit uncertain whether they really wanted to come. On the trip we went to a great German pub/ restaurant and had Schnitzel with Bratkartoffeln. We all loved it and the boys definitely wanted to have more.
This Schnitzel with mushroom sauce recipe is inspired by our local favourite German restaurant the Einhorn in Kaiserswerth. Be warned this recipe makes a lot of washing up. It does taste great and is a cheaper and healthier version of the restaurant classic. You can serve it with either chips or Bratkartoffeln. Bratkartoffeln are the German version of pan fried potatoes served with fired onions, diced bacon and parsley, they are yummy. The best Schnitzel I have ever had was in Austria and they served it with cranberry sauce.
All of the supermarkets here sell meat already cut into pieces for Schnitzel, if you can't find any it is easy to turn some regular Turkey, Chicken or Pork fillets into cuts you can use for schnitzel. If using Chicken or Turkey breast cut the breast into 2.5cm wide slices, you will probably end up with about 3 slices per breast, make sure you cut them through the middle of the breast rather than from the top downwards. Cover your chopping board with cling film, place the meat on top of the cling film and then cover with another layer of cling film. Hit the covered meat with a meat tenderiser, or a rolling pin if you haven't got a tenderiser, you are aiming to flatten the meat until it is about 0.5cm thick. It is then ready to use.
When I have classified this recipe I have called it German, similar recipes can be found in many different countries. In German Schnitzel with mushroom sauce is called Jaegerschnitzel, hunters schnitzel. It is a very common practice here for people to go foraging for mushrooms in the forest. I'm not an expert so I found mine in the supermarket. For me the recipe will always remind me of my time in Germany.
I hope you like it and can cope with the washing up.
Add to Favourites