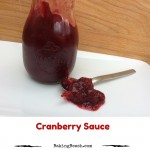 Cranberry Sauce
Quick and easy recipe for cranberry sauce.
Instructions
Sterilise a jar if you are planning to save the sauce.
Wash the cranberries.
Add  the sugar, juice and water to the pan and cook on a medium heat until you have dissolved the sugar.
Add the cranberries and zest and simmer gently for about 10 minutes until the cranberries start to pop.
Remove from the heat and put into your sterilised jar or bowl and leave to cool. The sauce will thicken as it cools.
Cranberry sauce is not just for Christmas. Some of way favourite ways to serve it are with schnitzel, Swedish Meatballs and with my new goats cheese and butternut squash salad. This is a very simple and quick recipe that will make one small jar of Cranberry sauce. If you are planning to eat it all straight away you can simply put it in a bowl. If like me you want it to last for a few weeks put it into a sterilised jar, even this can be done quickly in a microwave or it takes a bit longer in the oven.
The great thing about making your own sauce is that you get the taste of fresh cranberries and you can add the amount of sugar for your own tastes. To make it a little bit different I add some orange zest to give a slightly orange taste.
Hope you get time to try this. Let me know if you have any other ideas for great uses for cranberry sauce.
Add to Favourites