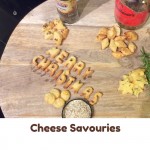 Prep Time: 60 minutes
Cook Time: 10 per batch minutes
Serving: 1 large tin
Print
Cheese Savouries
A great party favourite, cheese savouries.
Instructions
Grate all of the cheese. I used a food processor for this but you can do it manually.
Mix all of the main ingredients together, this is easiest in a food processor.
Place into a freezer bag and chill dough in the fridge for at least 1 hour.
Preheat the oven to Fan 175 degrees centigrade.
Prepare some baking trays, either use silicon sheets or grease proof paper to stop the biscuits sticking.
Dust your work surface with flour.
Only work with a small amount of dough. The dough has a very high fat content and becomes hard to work with if it gets too hot. If this happens chill it in the fridge before rolling out again.
Technique for seed toppings
Roll out a small piece of the dough till it is 4mm thick.
brush some beaten egg yolk over the biscuits and sprinkle with seeds.
For herb toppings
Finally chop some fresh herbs
sprinkle herbs  into dough and roll it out till is 4mm thick
cut out small shapes, roll and repeat until dough is fully used.
For Mustard Topping
Roll out dough till 4mm thick.
Cut out shapes
Spread a thin layer of sweet mustard over the top of the biscuits.
Bake the biscuits for 10 minutes until they are just going golden brown. Leave them to cool  for a few minutes before removing from the baking trays. Repeat with different flavours and shapes until you have used up all of the dough.
Allergens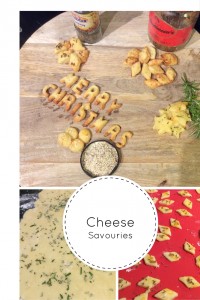 These cheese savouries make a great party canape. This is another great recipe from my friend Heiko. As you might have noticed I have been making quite a lot of sweet treats lately. This is a low/no sugar option. However it is is certainly not a low calorie choice. The key thing when making these cheese savouries is to use a tasty cheese. I used half gruyere and half mature cheddar. Another great choice would be Old Amsterdam, a mature gouda.
You will need some patience to make these savouries, it takes along time to cut them out. I tried to make a different flavour for each shape some suggestions are:
simply leave them plain
caraway seeds /kummel
chopped fresh Rosemary
paprika
sesame seeds
chopped fresh chives
my personal favourite a brush of German sweet mustard
freshly ground black pepper
For any topping that involves seeds first brush the biscuit with  a beaten egg yolk and then sprinkle with seeds.
If you have any other ideas for some great flavours let me know. Some of these Cheese Savouries went into work and the favourite flavour was probably the sweet mustard.
Add to Favourites