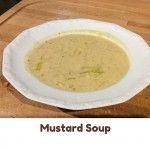 Mustard Soup
German classic Mustard Soup
Instructions
For stock
Put a pressure cooker or large pan on a medium heat. Chop the oil in half leaving on the skin and dry roast the onion in the pan.
Wash the other vegetables and roughly chop into large pieces. Add to the  pan or pressure cooker. Add the seasonings, olive oil and water. If you are using a pressure cooker cook for 20 minutes. Leave to cool fully before removing the lid. If cooking in a normal pan simmer stock for approximately 1 hour. When it has cooled slightly, strain the stock through a fine sieve  to remove the vegetables and seasonings.
For the soup
Wash and thinly slice the two leeks
Put a large pan on a medium heat. Dry roast the mustard seeds until they start to pop.
Then add the  butter and a little vegetable oil to the pan.
Fry the leeks gently for 5 minutes. Add the tablespoon of flour and stir. Cook for a further 1 to 2 minutes.
Add the stock, use 1.5 to 2 cups per person. Gently simmer for 10 minutes
Add the mustards, add the minimum amount of hot mustard at this stage. Add  the creme fraiche and taste before adding more hot mustard if you think it needs it. Season with salt and pepper. Cook for approximately 10 more minutes before serving.
Allergens
Allergens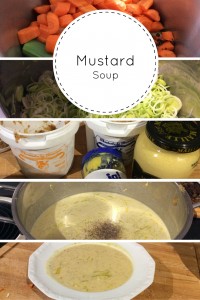 This is a German classic mustard soup from the area around Monshau. Monshau is in Germany but is very close to the Belgium and Dutch borders. it's a very pretty village and is well worth a visit. This version is from my friend Heiko. Heiko kindly invited us around for a Christmas get together and this was one of things we made. The mustard soup uses a combination of mustards, mustard seeds and leeks for its main flavour. German mustards are very different from the classic British Colman's mustard which is very hot. This soup uses a sweet mustard, very popular in Bavaria, a German hot mustard mustard and milder mustard. If you try and replicate it in the UK you could try with some wholegrain mustard and some Dijon mustard for a similar flavour and a small amount of Colmans if you want some extra heat. You should also add a tablespoon or 2 of brown sugar to add in some of the sweetness. Heiko made his own stock, for a cheats version you could use a vegetable stock pot instead, it obviously wouldn't taste as good but could be ready in 20 minutes.
Add to Favourites