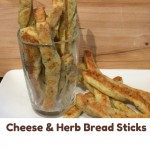 Cheese and Herb Bread Sticks
A great party favourite, cheese and herb bread sticks.
Instructions
Grate all of the cheese. I used a food processor for this but you can do it manually.
Mix all of the main ingredients together, this is easiest in a food processor.
Place into a freezer bag and chill dough in the fridge for at least 1 hour.
Preheat the oven to Fan 200 degrees centigrade.
Prepare a baking sheet gently oil the sheet and sprinkle with a dusting of flour.
Dust your work surface with flour. Split the dough in half. Roll out the dough till it is about 4mm thick. Cut into 1 cm wide strips approximately 15cm long. Place each strip on to the baking sheet, You can give them a little twist for a fancier finish or simply leave them flat. Repeat until you have used all of the dough.
The bread sticks will take about 15 to 20 minutes to cook. Turn them over after 7 minutes to help get a crisp finish on both sides. Leave to cool on a wire rack before serving.
Allergens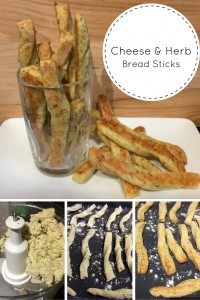 These Cheese and herb bread sticks make a great party canape. They are very quick and easy to make, you just need to let them rest in the fridge for 1 hour before rolling. The bread sticks taste best on the day they are baked. For a big party simply double the amount. The bread sticks use baking powder rather than yeast as the raising agent which makes the dough quick to make. Use your favourite strong cheese, in my version I used Gruyere, Emmenthal, Cheddar or Old Amsterdam Gouda would also be a great choice.  Use chopped herbs to add some extra flavour, I cheated and used 2 tablespoons of frozen chopped herbs which had a mixture of Italian herbs in it.
For an even more cheesy party favourite check out my cheese savouries recipe they take longer to make but will keep for a few days in a tin.
Add to Favourites