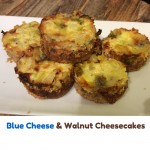 Prep Time: 15 minutes
Cook Time: 45 minutes
Print
Blue Cheese and Walnut Cheesecake
A great alternative to a traditional quiche. Could be made gluten free.
Instructions
For the Shortbread
Preheat the oven to 190 degrees Centigrade
Grease your tins with a little oil or butter and dust lightly with a little flour. This should make it easier to get the cakes out later.
Put all of the shortbread ingredients into a food processor. Cube the cold butter to make it easier to mix. Blend until it resembles breadcrumbs. Gradually add 2 to 4 tablespoons of water until the shortbread starts to come together.
On a chopping board roll the shortbread into a large sausage shape and then cut into 12 equal pieces. Firmly press each piece into your 12 piece tin. (alternatively make one large cake).
Prick the top of each biscuit with a fork which will stop them rising too much. Bake in the over for 25 minutes.
Meanwhile make the filling. Warm 1 tablespoon of  butter and a splash of vegetable oil in a large frying pan on a medium heat.
Wash, dry and thinly slice the leek. Add it to the frying pan and gently fry, with the lid on for about 10 minutes until the leeks are soft.
Peel and dice the pear add to the leeks once they are soft. Fry gently for 3 to 5 minutes.
Remove the leeks and pear from the pan and drain any extra butter by resting them in a sieve for a few minutes over a bowl.
Once they have cooled down a little bit, mix together with the creme fraiche, eggs and season with pepper. Cube the blue cheese and add to the mixture. I didn't add any salt to this mixture as the cheese was already quite salty, add salt if you think it needs it.
Once the biscuits have baked for 25 minutes. Remove them from the oven.
Spoon the topping over the biscuits. Trying to ensure each one gets an equal share of the cheese. For me my ice cream scoop was the perfect size.
Bake the filled cakes in the oven 20 to 25 minutes until the top has set and they are starting to go brown.
Leave to cool for 10 minutes before removing from the tin. You may need to use a skewer to help loosen them.
Leave to cool on a wire rack before serving.
Allergens
I love a good strong Blue Cheese and I love cheese cake. So this Blue Cheese and Walnut Cheesecake recipe makes a great party canape or can be used as part of a light lunch. It is a great alternative to the traditional quiche. The base is made from a savoury walnut and almond shortbread. I used a rye flour for an added nutty flavour. If you are gluten intolerant you could use buckwheat flour as an alternative. The biscuit base is baked first to ensure it is nice and crumbly. I used a tin from Lakeland where you can push the cakes out from the bottom. If you haven't got one of these tins you could make a larger savoury cheese cake you would need to do the second bake for a bit longer. For the second bake cook the cheese, leek, pear and creamy topping.
Use your favourite blue cheese. In Germany it is hard to get hold of Stilton so I have used Gorgonzola as an alternative. For some added interest I included some cooked leeks and some diced pear. Hope you will give these a try.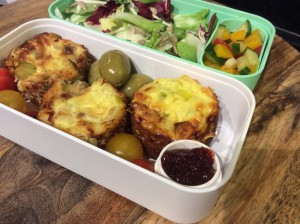 I had these for lunch in a Blue Cheese and Walnut Cheesecake Bento. With some green salad, salsa, olives, tomatoes and some cranberry sauce. For some other lunch ideas check out my Bento page.
Add to Favourites