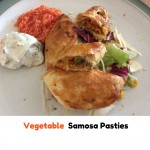 Vegetable Samosa Pasties
An easy twist on a great Indian classic Vegetable Samosa Pasties.
Instructions
To Make Filling
Peel and dice the carrots, I cut them into roughly 4mm cubes.
Put the oil into a large pot and place on a medium heat. Once the oil is hot add all the spice ingredients listed above. Cook for about 30 seconds before adding the diced carrots. Cover the pan and cook on a medium to low heat for 5 minutes.
Peel and dice the potatoes cut them the same size as the carrots stir well and cook for 5 more minutes.
In a food processor blend together the ginger and garlic and the fresh chillies. Check to see how hot your chillies are before deciding how many to add.
Finely dice the cabbage, parsnips, if using,  and add to the pot along with the green beans and peas. Add the chilli and ginger paste, sugar and then add the lemon juice and salt. Cook covered on a low heat for about 10 minutes until the vegetables are soft but still have a bit of bite. The remove the pan from the heat.
Finely dice the onion, spring onion and chop the coriander and mix into the pot. Sprinkle in the cinnamon and cloves and leave to cool before making the samosa pasties.  If you have used a Kashmiri chilli rather than chilli flakes remove it from the pot at this point. To speed up the cooling process, if required,  you can spread the mixture out on to a baking tray.
To Make Pasties
Heat the oven to fan 200 degrees centigrade.
Lightly dust your work surface with flour. Unroll the packet of pastry.  At this point you can sprinkle  chopped coriander or parsley over the pastry to add additional flavour. Roll the pastry up along the long edge.  Divide each half into 5 equally sized pieces. You should have 12 in total. Stand a piece up on its end and then press downwards with the palm of your hand. You should have a circle shape. With a rolling pin roll the circle out till it is roughly 2mm thick. Use a round cookie cutter to cut out circle shapes. Place the circles on a baking sheet lined that has been lightly oiled and dusted with flour. Repeat with the remaining 11 pieces.
Take a heaped teaspoonful of the samosa filling and place into the middle of each circle.
Beat the egg in a bowl. Brush round the edge of the circle lightly with the egg and fold the pastry over to make a semi circle parcel. Coat the top of the pastry with more of the beaten egg. Repeat with all of the circles.
Cook in the oven for 20 to 25 minutes until the pasties are golden brown in colour.
The pasties can be served hot or cold. They taste great with Raita a simple yoghurt cucumber and mint dip.
You should have plenty of vegetable samosa mix left over. Portion it up in freezer bags and freeze until you are ready to make your next batch of pasties. Leave it to defrost over night, or if you forget, defrost in the microwave. If you are using defrosted veggies there may possibly be a lot of liquid in them, if there is drain them before using reserving a bit of the juice and sprinkle a few drops of it over the filling before folding.
Allergens
I love vegetable samosas but it can be a bit tricky making your own samosa pastry. Traditional samosas are also deep fired which means your house will end up smelling like a chip shop. In Germany it is difficult to find ready made wrappers and even if you can you have to deep fry the samosas. This recipe for vegetable samosa pasties combines the great filling from a traditional samosa with shop bought all butter puff pastry. I make a large batch of the samosa filling and freeze some of it for later use. Simply defrost it before using. This recipe creates a great part canape and they are great served with some Raita or red pepper and coconut dip or with mango chutney.
You can use whatever root vegetables you have available. The key to  good vegetable samosa pasties is to use plenty of spices. There are a lot of ingredients but it helps to create a depth of flavour. To make the pastry extra special you can sprinkle chopped parsley or if you like coriander on the pastry before rolling. The filling for this  recipe is inspired by the great book " Cooking with my Indian Mother in Law " by Simon Daley.and Roshan Hirani. I have made the quantities larger, as the mixture is easy to freeze, have added some of more variety in my veggies and simplified some of the spices. I hope you will give these a try.
Serve the vegetable samosa pasties with some simple dips and some salad. My favourites are raita and red pepper and coconut dip.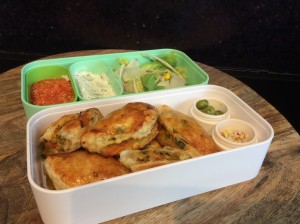 Hope you like my Samosa Bento Box. I included a few wasabi peas for extra heat and crunch and my favourite after an Indian nibbles of sugar coated fennel seeds (you should be able to find these in any good Indian Supermarket). For some other Bento box ideas check out my Bento page.
Add to Favourites