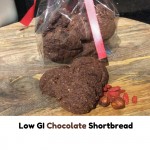 Prep Time: 15 minutes
Cook Time: 20 minutes
Print
Low GI Chocolate Shortbread
A healthier version of the Scottish Classic diabetic and vegan friendly.
Instructions
Preheat the oven to Fan 160 degrees Centigrade
Put all of the shortbread ingredients, with half the water into a food processor and blend. Add some extra water if required so that the mixture will stay together when lightly squeezed.
Chop the chocolate into chips. Add the chocolate and goji berries and mix until combined.
Line a baking tray with a silicon sheet or baking paper.
Spoon out  about a tablespoon of the mixture and form into a ball. Flatten the biscuit out and place on the tray. Repeat until all of the mixture has been used up.
Cook the shortbread for 20 to 25 minutes.
Leave to cool for 10 minutes before removing to a wire tray. Once they are completely cool store in an airtight tin.
Allergens
I came up with the this Low GI Chocolate Shortbread recipe as a birthday present for my Aunty. She needs to watch her sugar, but still has a sweet tooth. For the those of you that haven't heard the term before GI stands for Glycemic Index, which gives an indication of how fast the energy in a food is released. Therefore the lower the GI the greatest chance you will stay fuller for longer and avoid the crash following a sugar rush. I tried to include a combination of diabetic friendly ingredients that also taste good. The usual butter was replaced by ground hazelnuts and some coconut oil. I used a rye flour which has a naturally nutty taste and is lower GI than regular flour. For sweetness I used the sugar substitute sucolin which doesn't have an artificial taste and can be used like normal sugar.  The chocolate flavour comes from 70% chocolate and a little bit of cocoa. To boost the antioxidants I also used a few goji berries which also help regulate sugar.
This recipe is potentially vegan if you use vegan dark chocolate. My Aunty loved the shortbread. They are much better than shop bought low sugar alternatives and she asked me to post this one. The biscuits should last for a few days in an airtight tin. I'm glad I can still eat sugar as they would taste better with the real thing in it. So far my favourite low GI recipe is my  low GI Carrot Cake give that one a try as well. Some of other low GI recipes can be found on my low GI page.
Add to Favourites