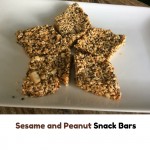 Prep Time: 15 minutes
Cook Time: 45 minutes
Print
Sesame and Peanut Snack Bars
A tasty and healthy snack bar great for picnics, trekking or breakfast on the go.
Instructions
 Preheat the oven to 175 degrees centigrade. Bake the raw peanuts on a tray for 20 minutes, Stirring occasionally to stop them from burning.
 Dry toast the sesame seeds in a large frying pan without any oil in it on a medium heat. Stir them regularly to prevent them from burning, toast for a few minutes until they have started to go beige. Keep an eye of them as it very easy to burn them. Remove from the heat and leave them to cool in the pan. Mix in the Chia seeds and cashew nuts.
Once the peanuts have cooked. Blend them in a food processor.  Add the coconut oil, salt, honey and agave and blend again.
Turn the oven down to 160 degrees centigrade.
Line a square tin or casserole dish with greaseproof paper (approx 20cm square).
Mix the blenders contents into the seeds until well combined. Then transfer to the lined tin and pat them down until it is evenly spread.
Bake for 20 to 25 minutes until the bars are golden brown.
Leave to cool in the tin for 15 minutes. I cut my bars out into a fancy diamond shape. If you are doing the same you can cut them out them the mixture is still warm and then press them down into the cutter to make sure they stay together. Repeat until all of the bits of mixture have been used up. Alternatively leave to cool for about 30 minutes and then simply cut into squares.
Once fully cool store in an airtight tin.
Allergens
Allergens
I developed these sesame and peanut snack bars as a healthier alternative to the traditional flapjack. These snack bars are gluten free and vegan. I have also used natural sweetness from honey and agave syrup. For added goodness I have included some chia seeds as well. For extra toasty taste I roasted the raw peanuts in the oven and dry toasted the sesame seeds in a frying pan. If you are in hurry you can miss out these steps but the bars won't taste as good.
I took these into work and everyone gave them a big thumbs up. One of my colleagues said I could even sell them for 2 Euros each. If I get short of cash I now know what to do.
These snack bars would be great included in a picnic or if you are going on a long hike. They contain healthy ingredients but are definitely not low calorie. Apart from the great taste here are some of the health benefits:
Sesame seeds are very high in vitamins and minerals which potentially can help with preventing diabetes, lowering blood pressure and reducing inflammation. Not only that they also taste great.
Peanuts in their non salted state are also very good for you. They have monounsaturated fat in them which is the healthy fat in the Mediterranean diet as well as Vitamin E, niacin and folate.
Cashew nuts are also high in monounsaturated fats and are a good source of magnesium which helps develop healthy bones, muscles and organs.
Chia seeds are something I have added to my daily diet. I sprinkle of my porridge every morning. They are truly a superfood. High fibre, high in calcium and omega 3 fats as well as lots of other vitamins.
Agave a natural lower GI sweetener (gives you less of a sugar rush)
Add to Favourites