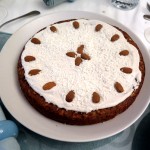 Low GI Carrot Cake
Low GI carrot cake, more friendly for diabetics and tasty enough for everyone else. Don't each too much though as it still contains a lot of calories.
Instructions
For the Cake
1. In a bowl mix together the artificial sugar, eggs and oil until they are combined.
2. Preheat the oven to 170 degrees Celsius. As it is coming up to temperature put the chosen nuts in the oven on a tray and leave to cook for 10 minutes,  then remove and let them cool.
3. Add the dry cake ingredients; flour, baking soda, baking powder, mixed spice or cinnamon, pinch of salt and the vanilla extract, stir one or two times to slightly mix.
4. Chop the nuts, put 50g into the main cake mix, the other 25g will be used for the topping the cake.
5. Peel the carrots and apple and chop in a food processor or grate if you haven't got a processor. Add to bowl.
6. Mix until you can't see any flour and the other ingredients are well combined (don't over mix as this causes tough cakes)
7. If using tins for cooking lightly oil with oil spray, or use cup cake wrappers in a muffin tin. Spoon mixture into tins or cases an ice cream scoop makes this easier to do. If making a larger cake line the base with baking paper and lightly oil the sides of the tin, the one shown was made in an 8 inch tin.
8. Bake in oven for 20 to 25 minutes, for cup cakes and mini cakes, 30 to 35 minutes for a large cake. Test they are ready by seeing if a skewer comes out clean and that they have a cooked colour.
9. Leave to cool for 5 minutes and then remove the cakes from the tin and leave to cool on a wire rack
For the topping
10. Stir together topping ingredients and spread over the cake. Sprinkle with nuts and coconut.
This is a low GI Carrot Cake doesn't contain any refined sugar it is adapted from my full sugar version cake. It was made for my Aunty Teresa who has type 2 diabetes. Like most diabetics I know she still has a sweet tooth and she is fed up of eating apple cakes as these normally are the ones with the lowest amount of sugar in them. Those of us who have tried it  thought if you didn't know you wouldn't suspect it didn't have real sugar in it. If you were to have a slice of it after my normal cake version you would be able to tell the difference. It was invented on a family trip to my Mum and Dad's in London.
For those of you that don't know the GI index stands for Glycemic Index. It looks at how fast each food releases the sugar that is contained in it. It can help people trying to lose weight to switch to lower GI foods as you get less of the sugar rush and the boom and bust energy cycles from higher GI foods.
In this recipe I have replace the white flour with spelt flour and used artificial sugar instead of the usual high sugar version. The have tried it with two different artificial sweeteners, xylitol and sucolin in both cases I was happy with the results. I included an apple with the carrots which I liked so much I have now added this to my normal cake version. For the icing/frosting it combines cream cheese with cinnamon and Agave syrup.
If you are interested in finding out more about the Glycemic Index this website has some interesting information. More info on GI Index
I've tried a number of recipes with artificial sugar and this is the best one so far. Hope you like it too.
Add to Favourites