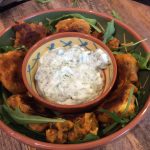 Carrot and Feta Kofta
Instructions
Peel and slice the carrots and boil them for 20 minutes in slightly salted water until they are soft.
Meanwhile prepare the other ingredients. Finely chop the spring onions, dates, feta and walnuts.
In a food processor make some breadcrumbs from 2 slices of bread. If the bread is fresh you can toast it first to help dry it out a bit.
When the carrots are ready drain them and puree along with the breadcrumbs. If the mixture is very wet you may need to add a little more breadcrumbs.
Season with chopped coriander or parsley, black pepper and harissa paste to taste.
Mix together with the other ingredients in the bowl. Cover with cling film and leave to chill for at a least an hour.
When you are ready to cook them put some flour in a bowl. Take a spoonful of the mixture, dust with flour and gently form into balls. Repeat until you have used up all of the mixture.
Put some oil in large frying pan on a medium heat. Gently fry the kofta in oil until they are golden brown, make sure you cook both sides.
Serve with mint yoghurt and cucumber dip.
Allergens
Allergens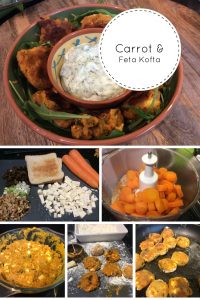 This is a tasty, healthy recipe for Carrot and Feta Kofta's. I wanted a light lunch and an alternative to falafel and this is what I came up. They are also a great way to use up a lot of carrots. As well as carrots and feta the kofta also contain dates, you could also use raisins, cranberries or dried apricots instead. I have added some walnuts they add a good crunch. I seasoned my kofta with parsley, harissa paste, nutmeg and pepper. Start off by adding a little harissa paste check the heat level and then add a little bit more if required. You don't need to add any salt as the feta is normally very salty.
You will need some patience to make these tasty Carrot and Feta Kofta, but they are worth the wait. You need to leave the mixture to cool for at least one hour in the fridge before you can shape them and cook them. They got a big thumbs up from Tom. Great served with a simple mint, cucumber and yoghurt dip.
The recipe makes about 20 kofta which serve about 4 people.
Add to Favourites