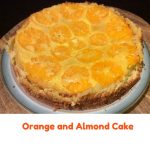 Orange and Almond Cake
Gluten free Orange and Almond Cake.
Instructions
Grease and line a 8 inch springform cake tin.
melt the butter and lightly spread it over the bottom of the tin and around the sides. Sprinkle with the two tablespoons of icing sugar.
Zest 1 one of the oranges.
Thinly slice the oranges into 3mm rounds. Using a pair of scizzors cut away the orange peel and the pith, the white bit, leaving a nice round of orange. (The peel and the pith can taste bitter so its best not to use it)
Arrange the orange segments in the bottom of the tin.
Separate the eggs into two separate bowls. I do this one at a time just in case you accidentally mix the egg yolk into the white if this happens put that egg in with the yolks.
Preheat the oven to fan 180 degrees centigrade.
Mix together the egg yolks and icing sugar. Then add  the almonds, cinnamon, vanilla extract, zest from one of the oranges and lightly stir.
In the other bowl whisk the egg whites using an electric whisk until they are light and fluffy
Gradually fold the egg whites into the other bowl. Start this by folding in one spoonful of the egg whites quickly, this helps loosen up the mixture. Then add the rest of the egg whites and gradually fold in using a figure of 8 motion. Fold gently until it is fully combined.
Gradually spoon the cake mixture into the tin. Tap the tin down slightly to get rid of any large air bubbles.
Cook for 50 to 60 minutes until the cake bounces back to the touch and a skewer comes out clean.
Leave to cool on a wire rack before removing from the tin. (I forget to loosen the sides of the cake so my cake looks a bit messy). Flip the cake over so that the oranges are now on the top.
Allergens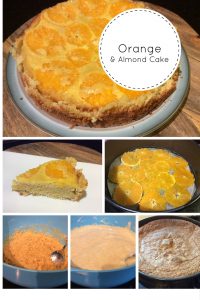 This Orange and Almond cake was inspired by a recent trip to Majorca / Mallorca. The cake is based on Mallorcan classic almond cake. The classic cake is normally served with almond ice cream or cream. We had it a few times on our trip. I have given it an extra Spanish twist by making it as an upside down orange cake. With the addition of the oranges it is tasty enough to have it on its own. This cake is gluten free and without the butter orange topping would also be lactose free. If you want the taste of sunshine give it a try.
Add to Favourites