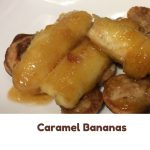 Prep Time: 2 minutes
Cook Time: 8 minutes
Print
Caramel Bananas
Great with pancakes or ice cream. Quantities shown here are for 2 just multiply for more people.
Instructions
melt the butter gently in a large frying pan
slice the bananas carefully in half lengthways
Add the sugar to the butter and cook for 2 to 3 minutes until it has melted and is starting to gently bubble.
Add the lemon juice and liqueur if using and stir gently. Add the bananas and gently spoon the sauce over the top of them. Cook gently for about 5 minutes until the sauce has thickened and the bananas have gone soft.
Serve with pancakes or ice cream.
Allergens
Allergens
Caramel bananas are one of my favourite speedy puddings. Great with ice cream or as an indulgent topping for pancakes. They only take about 10 minutes to make. To make them even tastier they use a splash of Gran Marnier or Cointreau. This Caramel Bananas recipe is probably one of the naughtiest way to get one of your 5 a day.
This recipe can easily be scaled up or down depending on how many hungry people you have.
I served my pancakes with traditional Dutch pancakes. For other pancake ideas check out my Pancakes page.
Add to Favourites