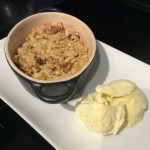 Rhubarb Crumble
A true British Classic can be made with other fruit.
Instructions
1. Clean and chop the rhubarb into 2cm long pieces. Sprinkle with the 50g of white sugar. Divide equally been four small dishes or ramekins.
2. Preheat the oven to 200 degrees Centigrade.
3. Cut the butter into cubes.  In a bowl mix it together with your finger tips, you should aim to get it to look like gravel rather than breadcrumbs. The add the brown sugar and oats and lightly mix it in. You should have some large bits of crumble topping and some finer pieces. Divide the mixture between the 4 dishes and top with a few broken pieces of walnuts.
4. Cook for 30 minutes until the top is golden brown.
5. Serve with ice cream, cream or custard.
Allergens
Rhubarb crumble is a true British Classic. Try and get the early pink Rhubarb to make it with. If you can't use half rhubarb and half apple. I like my crumble topping with some oats and sprinkled with some walnuts. Serve warm with ice cream, cream or custard. A crumble topping can be added to almost any fruits. Other British Classics are apple, apple and blackberry and plums. This type of pudding would normally follow a traditional Sunday lunch. Its definitely good enough for other times as well. For a healthier version check my Rhubarb Crumble Breakfast.
Add to Favourites