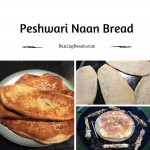 Peshwari Naan Bread
Homemade version of the Curry House classic.
Instructions
1. Put the bread flour into a mixing bowl and add the salt, sugar and yeast in separate piles ( the yeast needs to be kept way from the salt as it will kill it).
2. Warm the milk in a microwave for a few seconds, you just need to take the chill off it. Add the oil and 3/4 of the milk, mix gently adding more milk a little at a time till you get a soft but not soggy dough, you might possibly need a little more milk..
3. Knead either by hand or machine for 5 to 8 minutes until the dough becomes smooth and silky.
4. Place dough into a lightly oiled bowl and cover with cling film. Put it somewhere warm and leave to rise until it has at least doubled in size, minimum 1 hour. Could be left for longer.
5. Make up the filling ingredients by putting them in a food processor and blending. You are after a paste, if it is a bit runny add some more coconut, otherwise a little more cream. Cover and chill in the fridge till the dough is ready.
6. If you are going to use a pizza stone to cook the bread on warm it in the oven or on the BBQ for 20 minutes before adding the bread.
6. When the dough is ready divide it into 4 and roll out till it is about 4mm thick. Fill with a 1/4 of the filling on one half and then fold the top over and roll together. Repeat till all four are made. Alternatively you can make a family Naan which is one large round Naan bread.
7. I usually cook mine on a grill and oven setting at 190 degrees C for about 6 minutes per side. Alternatively you can cook them in a dry frying pan one at a time. On a pizza stone it takes about 5 minutes for the first side, the second side will be quicker. Remove it from the stone when it is cooked as the residual heat will burn the bread.
8. Once cooked spread some butter and drizzle with honey and sprinkle with some sesame seeds.
Allergens
Peshwari Naan Bread is one of the best things about a curry. A naan bread helps mop up the curry sauce. It is a flat bread, but it does have yeast in it. The peshwari version contains a filling of almonds, sultanas, coconuts and cream and once cooked it is drizzled with honey and sesame seeds. In restaurants it is cooked in a Tandoor oven over hot flames. At home you can cook in a dry pan on the hob or in the oven.  If you are Barbequing your chicken you can also cook a family Naan on a pizza stone of the BBQ. This is a great recipe for a homemade version, it has taken me several attempts to perfect the recipe. These Peshwari Naan Bread go perfectly with Butter Chicken. Hope you like them.
Add to Favourites