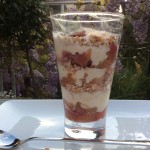 Rhubarb crumble breakfast
Healthy quick and easy Rhubarb crumble breakfast recipe, combining Rhubarb with Vanilla yoghurt and toasted oats and nuts.
Instructions
1. Wash and cut the rhubarb stick into 3 cm sized pieces. Place in a microwavable bowl with the tablespoon of water and brown sugar. Cover with cling film and cook for 3 to 4 minutes until it is soft (see picture in the gallery).
2. Meanwhile heat the oats and nuts in a dry frying, turning occasionally to stop them from burning. You are trying to get them lightly toasted. My hob is very quick so it didn't take too long. If yours is slower start with this step first.
3. Make the vanilla yoghurt by mixing together the vanilla extract, agave syrup and yogurt.
4. Then assemble the dish by spooning the yoghurt on top the rhubarb and adding the toasted oats and nuts. If you are after better looking dish you could layer ingredients in a glass jar to make it look nicer. Enjoy.
Allergens
This Rhubarb crumble breakfast recipe is inspired by the British classic pudding. It's currently Rhubarb season and its very cheap, fresh and one of my favourite things. There will be some other posts on some naughty things to make with it. I have used a Agave syrup as the main sweetener in this recipe as it is low in calories and has a low GI index. If you need it sweeter add a bit more. Choose your choice of nuts, I have used a mix of walnuts and pecans which are both high in Omega 3's. I have used a microwave to cook the Rhubarb if you haven't got one cook in a pan instead with a splash of water.
After a true pudding treat check out my traditional Rhubarb Crumble Recipe
Add to Favourites