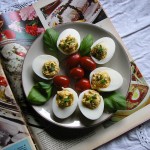 Vintage Stuffed Eggs
Stuffed Eggs are a party recipe from the late Fifties/early Sixties.
Instructions
1. Boil 3 eggs hard and let them cool down.
2. Slice the eggs in the middle to get long halves. Take the yolks out with a teaspoon and mix them with the mustard, Yoghurt, salt and pepper. The texture of the filling should be smooth.
3. Put the mixture in a piping bag and fill the egg whites with it, decorate with fresh herbs, arrange with cocktail tomatoes or slices of tomatoes and pepper bells in order to make it colourful.
Allergens
This is a recipe for Vintage Stuffed Eggs. Don't panic the eggs aren't old its just a vintage recipe. I like vintage very much and I have even dedicated one room of my apartment to the spirit of the late Fifties. In those days parties were a big theme and housewives loved to demonstrate their qualities as perfect hostesses. From time to time I like to do some of these old-fashioned German recipes, but in a lighter version than originally intended – the German Wirtschaftswunder was not very keen on counting calories.
For a party you may want to adjust the quantities, the present recipe is for 3 persons.
Add to Favourites