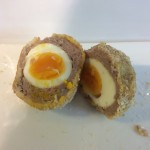 Scotch eggs
A scotch egg, is a boiled egg wrapped in sausage meat and coated in breadcrumbs. A British Picnic favourite.
Instructions
1. Boil 4 of the eggs, in lightly salted water for 6 minutes. Once cooked run under cold water and then peel with the help of a teaspoon.
2. Fill the sink with soapy water to make easier to clean your hands.
3. In 3 separate dishes add the flour, 1 beaten egg and fresh made breadcrumbs.
4. Remove the sausage meat from their skins and mix with the seasoning. Squish the mixture so that it sticks together divide into 4 equal pieces.
5. Preheat the oven to 190 degrees centigrade.
6. Flatten the sausage meat into an oval shape about a 1cm thick and wrap it around one of the boiled eggs, try and ensure that there are no gaps and that it is smooth as possible. Repeat until they are all done.
7. Roll the ball of sausage in the flour and tap of any excess then into the dish with the beaten egg and then into the breadcrumbs dish. Repeat with the other 3 eggs.
8. Put on a silicon sheet lined baking sheet. Bake for 20 to 25 minutes until breadcrumbs are brown. Turn it over half through the cooking time. Leave to cool before serving.
Allergens
This is a healthier version of the British Scotch Egg. Surprisingly the Scotch Egg isn't thought to come from Scotland. The word Scotch can mean to wedge something somewhere. So this relates to putting egg inside the sausage meat. The Scotch egg became really popular after it appeared in the posh London Store Fortnum and Mason, in the 1700's. Today they are a picnic favourite. Most supermarkets sell mini scotch eggs with the egg mixed with bacon and mayonnaise.
Normally a Scotch egg is deep fried in this version I bake it in the oven which makes healthier and also less smelly. In the UK you can use plain sausage meat, the sort you would usually use for making stuffing. In Germany the closest equivalent is the Bratwurst. You can season it with your favourite herbs fresh or dried. In Germany you can buy already boiled eggs which are painted so you can tell the difference. I would recommend that you don't use these, they are from battery hens and will definitely be very hard boiled. Making your own boiled eggs should be far fresher and tastier.
I've brought into work a few times and most of my German colleagues are fascinated by it. Its great served cold with salad and potato salad.
Add to Favourites